ACAPULCO GOLD STRAIN
BRING SOME MEXICAN MAGIC INTO YOUR LIFE WITH THIS ALL INSPIRING ACAPULCO GOLD
Cup Winner
Central American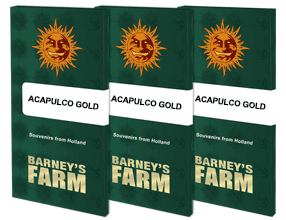 Acapulco Gold Cannabis Seeds
Type: Feminised strain
Acapulco Gold Strain by Barneys Farm
Barneys Farm is continually pushing the limits of marijuana genetics, improving their selection and breeding processes to create something that is truly breath-taking. Acapulco Gold is the next generation of marijuana strain. Like the original namesake the Acapulco Gold flowers with fat colas, flecked with beautiful reddish brown calyx, each covered with beautiful crystals of THC.
The smoke has an intense fruit cocktail flavour that lingers for hours. This is a Sativa dominant strain that offers a long lasting high, balancing relaxing stress reduction with a real upbeat effect. Acapulco Gold far surpasses the rhapsodized smoke of days past.
Is Acapulco Gold Indica or Sativa?
The Acapulco Gold strain by Barneys Farm is 70% Sativa 30% Indica.
What is the best way to store my Acapulco Gold strain seeds?
To properly store Acapulco Gold seeds, it is recommended to keep them cool and dark in an airtight container ideally in a refrigerator with proper labeling and dating, avoiding freezing.
What is the best method to germinate Acapulco Gold strain seeds?
There are numerous techniques for germinating Acapulco Gold cannabis seeds if it is allowed in your location. The paper towel method is a common method in which the Acapulco Gold seeds are placed on a damp paper towel and covered with another damp paper towel to keep them moist. After that, keep the paper towel in a warm, dark spot and check on it every day to ensure that it remains moist. When the Acapulco Gold seeds have germinated, gently place them in soil or similar growth media.
Acapulco Gold strain cannabis seeds are sold strictly for souvenirs, storage, and genetic preservation.
Acapulco Gold Strain Specs
Feminised
Normal
.
Central American
Cerebral, Aroused, Energizing, Creative, Euphoria, Happy
1500
500
700
500
12-12
18-24
60 - 70
October
2nd-3rd week
Medium
2
1
100/110cm
100/110cm
200cm
20cm
10
10
20
30%
70%
0%
Mostly Sativa
Citrus, Coffee, Creamy, Pine, Sweet, Woody
Earthy, Pine, Pungent, Sweet
3
20
Cool, Hot & Temperate
100
SPECIFICATION
feminised
normal
indoor/outdoor
.
Central American
Cerebral, Aroused, Energizing, Creative, Euphoria, Happy
1500
500
700
500
12-12
18-24
60 - 70
October
2nd-3rd week
Medium
2
1
100/110cm
100/110cm
200cm
20cm
10
10
20
30%
70%
0%
Mostly Sativa
Medium
Yes
Citrus, Coffee, Creamy, Pine, Sweet, Woody
Earthy, Pine, Pungent, Sweet
5
5
3
5
3
20
Cool, Hot & Temperate
100
3