AMNESIA LEMON STRAIN
LIFT YOUR MIND INTO A HIGHER PLACE WITH OUR CUP WINNING ENERGISER AMNESIA LEMON
Cup Winner
Amnesia Haze x Lemon Skunk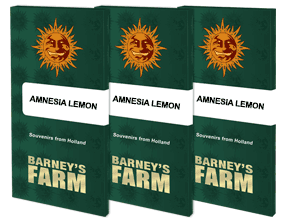 Amnesia Lemon Cannabis Seeds
Type: Feminised strain
Amnesia Lemon strain by Barneys Farm
Amnesia Lemon strain was created in collaboration with Barneys and the legendary Soma, winning the Cannabis Cup in 2004. Following this huge win Soma passed on his very best phenotype of Amnesia Haze to Barneys Farm Labs. Amnesia Lemon strain is a delicious blend made by a crossing Amnesia Haze with Lemon Skunk.
The tantalising flavours combined with the power and resilience of both lineages produced this spectacular strain. The uplifting and cerebral high is definitely Sativa weed and will leave you wanting more. The Amnesia Lemon strain has a flowering cycle of just 8 to 9 weeks and grows medium high, with long dense colas.
Is Amnesia Lemon Indica or Sativa?
The Amnesia Lemon strain by Barneys Farm is 60% Sativa 40% Indica.
What is the best way to store my Amnesia Lemon strain seeds?
To properly store Amnesia Lemon seeds, it is recommended to keep them cool and dark in an airtight container ideally in a refrigerator with proper labeling and dating, avoiding freezing.
What is the best method to germinate Amnesia Lemon strain seeds?
There are numerous techniques for germinating Amnesia Lemon cannabis seeds if it is allowed in your location. The paper towel method is a common method in which the Amnesia Lemon seeds are placed on a damp paper towel and covered with another damp paper towel to keep them moist. After that, keep the paper towel in a warm, dark spot and check on it every day to ensure that it remains moist. When the Amnesia Lemon seeds have germinated, gently place them in soil or similar growth media.
Amnesia Lemon strain cannabis seeds are sold strictly for souvenirs, storage, and genetic preservation.
Amnesia Lemon Strain Specs
Feminised
Normal
.
Amnesia Haze x Lemon Skunk
Uplifting, Cerebral
550 gr/m▓
60 - 65
October
1st-2nd week
100/110cm
100/110cm
100/110cm
40%
60%
Mostly Sativa
Lemon, Spicy, Sweet
Exotic, Earthy, Citrus
SPECIFICATION
feminised
normal
indoor/outdoor
.
Amnesia Haze x Lemon Skunk
Uplifting, Cerebral
550 gr/m▓
60 - 65
October
1st-2nd week
100/110cm
100/110cm
100/110cm
40%
60%
Mostly Sativa
No
Lemon, Spicy, Sweet
Exotic, Earthy, Citrus