BANANA PUNCH STRAIN
ANOTHER BREEDING MASTERCLASS, TANTALIZING AROMAS AND EXOTIC COLOURS FROM OUR BANANA OG X PURPLE PUNCH
Banana OG x Purple Punch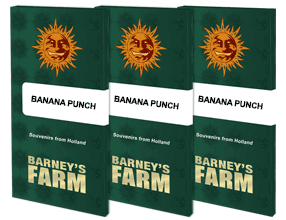 Banana Punch Cannabis Seeds
Type: Feminised strain
Banana Punch Strain by Barneys Farm
Banana Punch Strain is yet another breeding masterclass from the Barney's Farm lab and the next delicious addition to our prestigious exceptional flowers collection, combining two of the most sought-after genetics Banana OG and Purple Punch! We selected an extraordinary tranquilising 55% Indica biased variation to evolve that consistently provided higher yield potential combined with a shorter flowering period of just 60-65 days. This combined with enhanced terpene production especially of Limonene and Pinene created a citrus tropical fruit flavour backbone perfect for the banana OG's exquisite essences of ripe sweet banana shine through.
Banana Punch Strain is a strong sturdy plant and extremely versatile to a wide range of growing techniques, indoors reaching a perfectly manageable height within a few weeks whilst outdoors you can expect something very special reaching maturity towards the end of September. The breath-taking colours and aromatic traits of our OG Kush descendant Purple Punch were not lost during the breeding process, as our Banana Punch Strain evolves, beautiful deep purples and oranges emerge in contrast to the dark vibrant shades of green.
With the onset of flowering its branches rapidly take shape, its olive shaped clusters continually expanding and multiplying, becoming densely covered with bright amber pistils and golden coating of sticky resinous trichomes. The most abundant terpene in our Banana Punch is limonene, followed by Pinene, myrcene and caryophyllene. Intrigued to know more? Follow Toni13 as he grows Barney's Farm prestigious Banana Punch Strain and other amazing weed https://cultivandomedicina.com/blog-cultivo-marihuana
Is Banana Punch Indica or Sativa?
The Banana Punch strain by Barneys Farm is 45% Sativa 55% Indica.
What is the best way to store my Banana Punch strain seeds?
To properly store Banana Punch seeds, it is recommended to keep them cool and dark in an airtight container ideally in a refrigerator with proper labeling and dating, avoiding freezing.
What is the best method to germinate Banana Punch strain seeds?
There are numerous techniques for germinating Banana Punch cannabis seeds if it is allowed in your location. The paper towel method is a common method in which the Banana Punch seeds are placed on a damp paper towel and covered with another damp paper towel to keep them moist. After that, keep the paper towel in a warm, dark spot and check on it every day to ensure that it remains moist. When the Banana Punch seeds have germinated, gently place them in soil or similar growth media.
Banana Punch strain cannabis seeds are sold strictly for souvenirs, storage, and genetic preservation.
Banana Punch Strain Specs
Feminised
Normal
Banana OG x Purple Punch
Relaxed, Euphoric, Happy Creative
1.5kg plant
600-650g/m▓ gr/m▓
60 - 65
September
3rd-4th week
110cm
110cm
200CMcm
Medium
55%
45%
Mostly Indica
Earthy, Sweet, Banana, Tropical, Sweet Berries
Ripe Banana, Sweet And Sour, Citrus
3
Cool, Hot & Temperate
SPECIFICATION
feminised
normal
indoor
Banana OG x Purple Punch
Relaxed, Euphoric, Happy Creative
1.5kg plant
600-650g/m▓ gr/m▓
60 - 65
September
3rd-4th week
110cm
110cm
200CMcm
Medium
55%
45%
Mostly Indica
No
Earthy, Sweet, Banana, Tropical, Sweet Berries
Ripe Banana, Sweet And Sour, Citrus
4
3
3
4
3
Cool, Hot & Temperate
2