BISCOTTI MINTZ STRAIN
EXPERIENCE OUTSTANDING US GENETICS AND UNBELIEVABLE FLAVOURS WITH BISCOTTI MINTZ
Biscotti x Mintz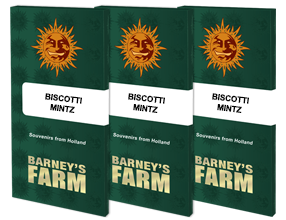 Biscotti Mintz Cannabis Seeds
Type: Feminised strain
Biscotti Mintz Strain By Barneys Farm
Created for the real connoisseurs featuring two of the USA's premium and most elusive strains. The lab crossed Biscotti; already a world beating 80% Indica dominant specimen with our exclusive and delicious Mintz Phenotype. The results were stunning, the Cookies variant x OG Kush parentage provided the incredible potency and a flavour backbone, add the infusion of the creamy smooth Mintz genetics created this Mouth-watering new champion of a strain, a totally unique edition to our catalogue.
Biscotti Mintz Strain is predominantly a deep purple plant with trichome production off the scale, during the final day's leaves display a beautiful array of purples, oranges and greens wrapping the tightly formed bolder shaped dark green buds with bold purple highlights and long orange hairs.
You will be astounded by its tantalising, lingering tastes, and aromas, kushy flavours with hints of chocolate chip cookies with creamy mint and spice. Distinctive Limonene, Caryophyllene, Eucalyptol terpenes come together to produce exceptionally appetizing aroma. With Biscotti Mintz Strain, discover a highly creative, focused, and relaxing effect with a noticeable and distinct creeping energizing body high.
Is Biscotti Mintz Indica or Sativa?
The Biscotti Mintz strain by Barneys Farm is 20% Sativa 80% Indica.
What is the best way to store my Biscotti Mintz strain seeds?
To properly store Biscotti Mintz seeds, it is recommended to keep them cool and dark in an airtight container ideally in a refrigerator with proper labeling and dating, avoiding freezing.
What is the best method to germinate Biscotti Mintz strain seeds?
There are numerous techniques for germinating Biscotti Mintz cannabis seeds if it is allowed in your location. The paper towel method is a common method in which the Biscotti Mintz seeds are placed on a damp paper towel and covered with another damp paper towel to keep them moist. After that, keep the paper towel in a warm, dark spot and check on it every day to ensure that it remains moist. When the Biscotti Mintz seeds have germinated, gently place them in soil or similar growth media.
Biscotti Mintz strain cannabis seeds are sold strictly for souvenirs, storage, and genetic preservation.
Biscotti Mintz Strain Specs
Feminised
Normal
Biscotti x Mintz
Creative Relaxing Body High
1.5kg per plant
600-650 gr/m▓
56 - 63
October
1st-2nd week
80-90cm
200cm
Medium
80%
20%
Mostly Indica
kushy flavours, hints of chocolate chip cookies, creamy mint
Exceptionally appetizing creamy kushy aroma
Hot & Temperate
SPECIFICATION
feminised
normal
indoor/outdoor
Biscotti x Mintz
Creative Relaxing Body High
1.5kg per plant
600-650 gr/m▓
56 - 63
October
1st-2nd week
80-90cm
200cm
Medium
80%
20%
Mostly Indica
No
kushy flavours, hints of chocolate chip cookies, creamy mint
Exceptionally appetizing creamy kushy aroma
Hot & Temperate
2