BLUE SUNSET SHERBERT STRAIN
BE PREPARED FOR A DAZZLING DISPLAY OF EXOTIC TERPENE RICH AROMAS AND DAZZLING COLOURS.
Sunset Sherbet x Purple Punch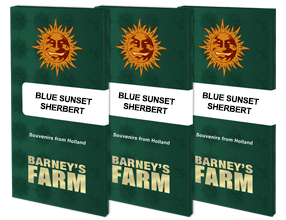 Blue Sunset Sherbert Cannabis Seeds
Type: Feminised strain
Blue Sunset Sherbert Strain from Barney's Farm
An Indica leaning hybrid delivering massive yields without becoming unmanageable with a multitude of side-branches are grown, each with the capacity to support the heaviest colas. Super-fast flowering in just 59 to 63 days and producing 650-700g/m2. Compact in stature, above-average trichrome production and growing to around 80cm indoors is a real treat, outdoors she can reach a staggering two metres plus and harvests up to 1kg per plant.
Blue Sunset Sherbert Strain completes a dazzling display during its final days, displaying a magical transformation producing a mesmerizing kaleidoscope of exotic-coloured leaves, bright orange hairs, glued with resin covering the tightly formed buds, shimmering with frosted trichomes, producing THC levels tested up to a jaw dropping 28%
Hints of Purple Punch and Sherbet Dib Dab can be detected in these wonderful specimens, its high terpene levels including Limonene, Humulene, Terpinolene ensure with a good cure, they elevate the delectable, sweet candy, citrus zest, and sweet berry scents that this plant can spawn. The Blue Sunset Sherbert Strain intoxicatingly potent effects combining the best of both worlds, instantly uplifted creative euphoric sativa high combined with a knockout full body Indica tranquilising and calming experience! a perfect way to round off the day.
Is Blue Sunset Sherbert Indica or Sativa?
The Blue Sunset Sherbert strain by Barneys Farm is 35% Sativa 65% Indica.
What is the best way to store my Blue Sunset Sherbert strain seeds?
To properly store Blue Sunset Sherbert seeds, it is recommended to keep them cool and dark in an airtight container ideally in a refrigerator with proper labeling and dating, avoiding freezing.
What is the best method to germinate Blue Sunset Sherbert strain seeds?
There are numerous techniques for germinating Blue Sunset Sherbert cannabis seeds if it is allowed in your location. The paper towel method is a common method in which the Blue Sunset Sherbert seeds are placed on a damp paper towel and covered with another damp paper towel to keep them moist. After that, keep the paper towel in a warm, dark spot and check on it every day to ensure that it remains moist. When the Blue Sunset Sherbert seeds have germinated, gently place them in soil or similar growth media.
Blue Sunset Sherbert strain cannabis seeds are sold strictly for souvenirs, storage, and genetic preservation.
Blue Sunset Sherbert Strain Specs
Feminised
Normal
Sunset Sherbet x Purple Punch
creative euphoric sativa high + full body Indica tranquilising calming experience
1kg per plant
650-700 gr/m▓
59 - 63
October
1st-2nd week
80cm
150-200 cm
65%
35%
Mostly Indica
Sweet Candy, Citrus
Sweet Candy, Citrus Zest, Sweet Berry
SPECIFICATION
feminised
normal
indoor
Sunset Sherbet x Purple Punch
creative euphoric sativa high + full body Indica tranquilising calming experience
1kg per plant
650-700 gr/m▓
59 - 63
October
1st-2nd week
80cm
150-200 cm
65%
35%
Mostly Indica
No
Sweet Candy, Citrus
Sweet Candy, Citrus Zest, Sweet Berry
1