BLUEBERRY OG STRAIN
ENHANCE YOUR DAY AND FEEL YOUR ACHES DRAIN AWAY WITH THE BLUEBERRY OG
BlueBerry x OG Kush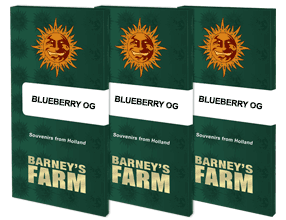 Blueberry OG Cannabis Seeds
Type: Feminised strain
Blueberry OG Strain by Barneys Farm
Blending two of the worlds most distinguished strains and reproducing the best characteristics from both these noble genetics was a complex assignment. In our Blueberry OG strain we have succeeded in creating a strain with the classic Indica power of the Blueberry plant with the rich psychoactive backbone of the infamous OG Kush.
This upscale highly rewarding hybrid will leave any grower breathless. Huge colas of packed buds develop on the maturing plant. A rich fragrance of sweet citrus and musk flood from every harvest. The Blueberry OG plant grows medium height with many rewarding side branches allowing for a harvest up to 700g/m2.
Is Blueberry OG Indica or Sativa?
The Blueberry OG strain by Barneys Farm is 30% Sativa 70% Indica.
What is the best way to store my Blueberry OG strain seeds?
To properly store Blueberry OG seeds, it is recommended to keep them cool and dark in an airtight container ideally in a refrigerator with proper labeling and dating, avoiding freezing.
What is the best method to germinate Blueberry OG strain seeds?
There are numerous techniques for germinating Blueberry OG cannabis seeds if it is allowed in your location. The paper towel method is a common method in which the Blueberry OG seeds are placed on a damp paper towel and covered with another damp paper towel to keep them moist. After that, keep the paper towel in a warm, dark spot and check on it every day to ensure that it remains moist. When the Blueberry OG seeds have germinated, gently place them in soil or similar growth media.
Blueberry OG strain cannabis seeds are sold strictly for souvenirs, storage, and genetic preservation.
Blueberry OG Strain Specs
Feminised
Normal
.
BlueBerry x OG Kush
Uplifting, Cerebral, Euphoria, Giggles, Body- Mind Relaxation, Sedation
1000
600-700 gr/m▓
55 - 65
October
2nd-3rd week
High
100-120cm
100cm
100-120cm
Medium
70%
30%
Mostly Indica
Blueberry, Musky, Citrus, Pine, Rich
Lemon, Pine, Orange
4
20ltr
Cool, Hot & Temperate
Stable
SPECIFICATION
feminised
normal
indoor/outdoor
.
BlueBerry x OG Kush
Uplifting, Cerebral, Euphoria, Giggles, Body- Mind Relaxation, Sedation
1000
600-700 gr/m▓
55 - 65
October
2nd-3rd week
High
100-120cm
100cm
100-120cm
Medium
70%
30%
Mostly Indica
High
Yes
Blueberry, Musky, Citrus, Pine, Rich
Lemon, Pine, Orange
4
4
4
4
20ltr
Cool, Hot & Temperate
Stable
2