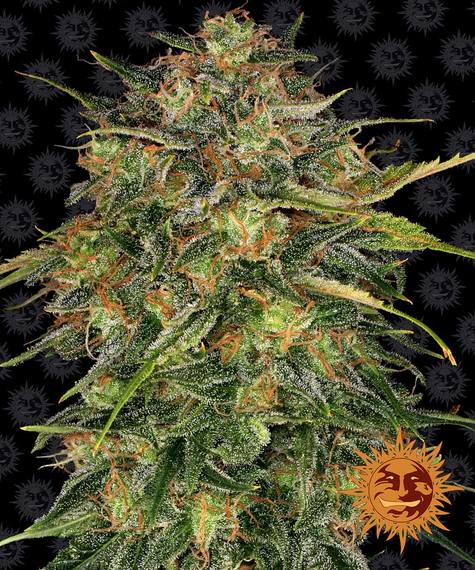 CHEESE STRAIN
VISIT PLANET CHEESE, ALL DAY LONG WITH THIS GRANDDADDY OF CANNABIS STRAINS - OUR SPECIAL CHEESE IS BACK.
Cheese Cannabis Seeds
Type: Feminised strain
Cheese Strain by Barneys Farm
Barneys Farm Feminized Cheese! Little introduction is required for this all time classic cheese from the vault of Barney's Farm. This highly guarded bona fide specimen cheese strain will take you into another cheese based galaxy, overflowing with pulsating creativity and love.
Our cheese strain is an utter delight to grow, this stinky powerhouse will develop a prodigious amount of side branches loaded with glistening cheese delights. Indoor gardeners are able to take 600g/m2 with outdoor experts achieving well over 1kg for a single plant. All this after a mere eight weeks of flower. The captivating cheese weed strain experience will make your day dreamy and delightful, giving you an impressive boost in creativity and sociability that will make everything sparkle that little bit brighter.
Beware of over indulgence, as there is no ceiling to the high of this cannabis strain. You will only become more and more cheesed. This is one of the reasons that make Cheese one of the most noted cannabis strains on the planet. An ideal choice for seasoned toker's.
Revolutionary in the cannabis world, this cheese strain is a completely amazing plant and firmly ticks all of the boxes. Yield is reliable with strong returns each time. Taste is uniquely fruity with cheese. And of course, the effects are simply out of this world. Make sure you don't miss out on this extraordinary epic Cheese strain example of pure fire from Barneys Farm.
Is Cheese Indica or Sativa?
The Cheese strain by Barneys Farm is 50% Sativa 50% Indica.
What is the best way to store my Cheese strain seeds?
To properly store Cheese seeds, it is recommended to keep them cool and dark in an airtight container ideally in a refrigerator with proper labeling and dating, avoiding freezing.
What is the best method to germinate Cheese strain seeds?
There are numerous techniques for germinating Cheese cannabis seeds if it is allowed in your location. The paper towel method is a common method in which the Cheese seeds are placed on a damp paper towel and covered with another damp paper towel to keep them moist. After that, keep the paper towel in a warm, dark spot and check on it every day to ensure that it remains moist. When the Cheese seeds have germinated, gently place them in soil or similar growth media.
Cheese strain cannabis seeds are sold strictly for souvenirs, storage, and genetic preservation.
Cheese Strain Specs
Feminised
Normal
Happy, Relaxed, Euphoric, Hunger.
600g per plant
500-600 gr/m▓
56 - 63
October
1st-2nd week
100-120cm
150-200cm
Medium
50%
50%
Indica/Sativa
Nutty, Cheddar Cheese
Old-school skunk, Pungent fruits, Smokey Cheddar cheese
SPECIFICATION
feminised
normal
indoor/outdoor
Happy, Relaxed, Euphoric, Hunger.
600g per plant
500-600 gr/m▓
56 - 63
October
1st-2nd week
100-120cm
150-200cm
Medium
50%
50%
Indica/Sativa
Medium
Yes
Nutty, Cheddar Cheese
Old-school skunk, Pungent fruits, Smokey Cheddar cheese
1