COOKIES KUSH AUTO STRAIN
INDULGE IN THE SWEET AND EUPHORIC EXPERIENCE OF THE COOKIES KUSH AUTO CANNABIS STRAIN, PERFECT FOR A RELAXING EVENING.
Cookies Kush x BF Super Auto #1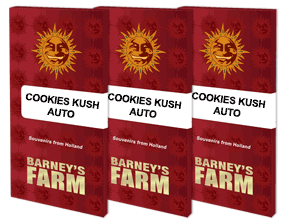 Cookies Kush Auto Cannabis Seeds
Type: Autoflowering strain
Cookies Kush Auto Strain by Barneys Farm
Are you ready to take your cannabis growing game to the next level? Look no further than Cookies Kush Auto, the alluring and potent strain that will leave you spellbound with its seductive aroma and heavy yields. We've taken the classic Cookies Kush and paired it with our very own BF Super Auto #1 to create an autoflowering version that is sure to take your breath away.
But the real magic of Cookies Kush Auto lies in its flowering time. With just 70-75 days needed to reach full maturity from seed indoors, you'll be amazed at the speed and efficiency of this incredible auto flower. And the rewards are plentiful: indoors, you can expect an impressive yield of 500-600g/m2, while outdoor she will produce a still-satisfying 200-300g per plant.
And don't let her size fool you - this compact plant may only reach a height of 90cm-120cm, but it delivers on production. Its dense buds, coated in sparkling trichomes, emit a complex aroma that blends the sweet and spicy notes of its genetic heritage - the ubiquitous Girl Scout Cookies. Prepare to be entranced by the seductive scent of Cookies Kush Auto, she is one in a million. With its impressive yields, speedy growth, and irresistible aroma, Cookies Kush Auto is the perfect weed for any cannabis grower looking to level up their game.
Get ready to be swept away by the magic of Cookies Kush Auto - order your seeds today!
Is Cookies Kush Auto Indica or Sativa?
The Cookies Kush Auto strain by Barneys Farm is 30% Sativa 70% Indica.
What is the best way to store my Cookies Kush Auto strain seeds?
To properly store Cookies Kush Auto seeds, it is recommended to keep them cool and dark in an airtight container ideally in a refrigerator with proper labeling and dating, avoiding freezing.
What is the best method to germinate Cookies Kush Auto strain seeds?
There are numerous techniques for germinating Cookies Kush Auto cannabis seeds if it is allowed in your location. The paper towel method is a common method in which the Cookies Kush Auto seeds are placed on a damp paper towel and covered with another damp paper towel to keep them moist. After that, keep the paper towel in a warm, dark spot and check on it every day to ensure that it remains moist. When the Cookies Kush Auto seeds have germinated, gently place them in soil or similar growth media.
Cookies Kush Auto strain cannabis seeds are sold strictly for souvenirs, storage, and genetic preservation.
Cookies Kush Auto Strain Specs
Feminised
Autoflowering
Cookies Kush x BF Super Auto #1
Cerebral, Energizing, Euphoria, Happy, Relaxing
200-300 gr/plant
500 gr/m²
70 - 75
90-110cm
90-110cm
90-120cm
Short
70%
30%
Mostly Indica
Spicy, Woody, Earthy, Sweet Lime
Sweet Lime, Sour Apple, Pungent, Earthy
SPECIFICATION
feminised
autoflowering
indoor/outdoor
Cookies Kush x BF Super Auto #1
Cerebral, Energizing, Euphoria, Happy, Relaxing
200-300 gr/plant
500 gr/m²
70 - 75
90-110cm
90-110cm
90-120cm
Short
70%
30%
Mostly Indica
No
Spicy, Woody, Earthy, Sweet Lime
Sweet Lime, Sour Apple, Pungent, Earthy