CRITICAL KUSH AUTO STRAIN
GET SOME QUALITY KUSH QUICKLY WITH CRITICAL KUSH AUTO - YOURS IN JUST 9 WEEKS
Critical Kush x BF Super Auto #1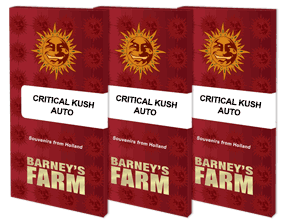 Critical Kush Auto Cannabis Seeds
Type: Autoflowering strain
Critical Kush Auto by Barneys Farm
One of BARNEYS FARM most popular strains is now available in autoflowering, so say hello to the Critical Kush Auto. This strain was created by crossing the CRITICAL KUSH with our most advanced autoflowering breeding plant, and can be yours in just 8-9 weeks.
Flowering begins in the fifth week, with the final plant reaching up to 75cm. The main stem grows several side branches which are packed with tasty and compact heavy colas. And don't forget about the delicious earthy pine and Kush flavours. This is an amazing choice for Indica lovers.
Is Critical Kush Auto Indica or Sativa?
The Critical Kush Auto strain by Barneys Farm is 10% Sativa 90% Indica.
What is the best way to store my Critical Kush Auto strain seeds?
To properly store Critical Kush Auto seeds, it is recommended to keep them cool and dark in an airtight container ideally in a refrigerator with proper labeling and dating, avoiding freezing.
What is the best method to germinate Critical Kush Auto strain seeds?
There are numerous techniques for germinating Critical Kush Auto cannabis seeds if it is allowed in your location. The paper towel method is a common method in which the Critical Kush Auto seeds are placed on a damp paper towel and covered with another damp paper towel to keep them moist. After that, keep the paper towel in a warm, dark spot and check on it every day to ensure that it remains moist. When the Critical Kush Auto seeds have germinated, gently place them in soil or similar growth media.
Critical Kush Auto strain cannabis seeds are sold strictly for souvenirs, storage, and genetic preservation.
Critical Kush Auto Strain Specs
Feminised
Autoflowering
.
Critical Kush x BF Super Auto #1
Relaxed, Calming, Sleepy, Cerebral
550 gr/m²
70 - 80
70/80cm
70/80cm
70-100cm
Short
90%
10%
Mostly Indica
Pine Wood, Kush
Smooth, Earthy, Fruity
SPECIFICATION
feminised
autoflowering
indoor/outdoor
.
Critical Kush x BF Super Auto #1
Relaxed, Calming, Sleepy, Cerebral
550 gr/m²
70 - 80
70/80cm
70/80cm
70-100cm
Short
90%
10%
Mostly Indica
No
Pine Wood, Kush
Smooth, Earthy, Fruity