DOS SI DOS AUTO STRAIN
ENJOY THIS HARD HITTING AUTOFLOWERING WONDER THAT TASTES LIKE PIE.
Dos Si Dos x BF Super Auto #1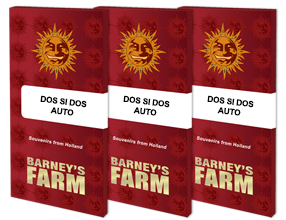 Dos Si Dos Auto Cannabis Seeds
Type: Autoflowering strain
DOS SI DOS AUTO by Barney's Farm
DOS SI DOS AUTO is an extraordinary new super breed of autoflower that is Indica-dominant with 65% Indica / 35% Sativa, dropping perfectly to our ever growing Autoflowering Cali Collection.
This jewel brings together the historical parental power of Face Off OG x Girl Scout Cookies now crossed with our BF Super Auto #1 = Increased yields, power and trichome production providing DOS SI DOS AUTO with a serious genetic boost.
Dos Si Dos Auto smooths away anxiety and pain and softens your day in every way. Lingering lime flavours will remind some of granny's lemon meringue pie, fresh out the oven.
This spellbinding speed demon grows climbs to an indoor height of 100cm and up to 140cm outdoors. This plant explodes from seed to harvest in a mere 70-75 days generating stupendous yields of up to 600g/m2, with THC measured above 20%.
Dive into a delicious dream of divine delight with the one and only Dos Si Dos Auto, the autoflower that lets you transcend reality.
Is Dos Si Dos Auto Indica or Sativa?
The Dos Si Dos Auto strain by Barneys Farm is 35% Sativa 65% Indica.
What is the best way to store my Dos Si Dos Auto strain seeds?
To properly store Dos Si Dos Auto seeds, it is recommended to keep them cool and dark in an airtight container ideally in a refrigerator with proper labeling and dating, avoiding freezing.
What is the best method to germinate Dos Si Dos Auto strain seeds?
There are numerous techniques for germinating Dos Si Dos Auto cannabis seeds if it is allowed in your location. The paper towel method is a common method in which the Dos Si Dos Auto seeds are placed on a damp paper towel and covered with another damp paper towel to keep them moist. After that, keep the paper towel in a warm, dark spot and check on it every day to ensure that it remains moist. When the Dos Si Dos Auto seeds have germinated, gently place them in soil or similar growth media.
Dos Si Dos Auto strain cannabis seeds are sold strictly for souvenirs, storage, and genetic preservation.
Dos Si Dos Auto Strain Specs
Feminised
Autoflowering
Dos Si Dos x BF Super Auto #1
Active Strong Stone
800 gr/m²
600 gr/m²
70 - 75
100cm
140cm
Medium
65%
35%
Mostly Indica
Lemon fruit, Sweet
Meringue Pie
SPECIFICATION
feminised
autoflowering
indoor/outdoor
Dos Si Dos x BF Super Auto #1
Active Strong Stone
800 gr/m²
600 gr/m²
70 - 75
100cm
140cm
Medium
65%
35%
Mostly Indica
No
Lemon fruit, Sweet
Meringue Pie