G13 HAZE - REGULAR STRAIN
EXPERIENCE THIS SWEET TASTING, UPLIFTING CUP WINNER USING THE ONE AND ONLY G13
G13 x Hawaiian Sativa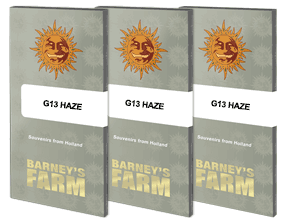 G13 Haze - Regular Cannabis Seeds
Type: Regular strain
G13 HAZE REGULAR strain by Barneys Farm
Maintaining our mystical G13 legend by crossing G13 with a classic Skunk#1, was perfect to firstly advance the precious G13 genetic pedigree. By then crossing the G13 X Skunk#1 with our favourite Hawaiian Sativa, Barneys Farm has taken the G13 legend soaring to a celestial high, creating the famous G13 HAZE.
This plant produces a high that covers the complete spectrum of effects, with a full body stone combined with a psychedelic Sativa high. The combination is powerful, heavenly and unforgettable. G13 HAZE grows relatively tall and produces an outstanding generous flower structure with healthy resin production.
Is G13 Haze - Regular Indica or Sativa?
The G13 Haze - Regular strain by Barneys Farm is 65% Sativa 35% Indica.
What is the best way to store my G13 Haze - Regular strain seeds?
To properly store G13 Haze - Regular seeds, it is recommended to keep them cool and dark in an airtight container ideally in a refrigerator with proper labeling and dating, avoiding freezing.
What is the best method to germinate G13 Haze - Regular strain seeds?
There are numerous techniques for germinating G13 Haze - Regular cannabis seeds if it is allowed in your location. The paper towel method is a common method in which the G13 Haze - Regular seeds are placed on a damp paper towel and covered with another damp paper towel to keep them moist. After that, keep the paper towel in a warm, dark spot and check on it every day to ensure that it remains moist. When the G13 Haze - Regular seeds have germinated, gently place them in soil or similar growth media.
G13 Haze - Regular strain cannabis seeds are sold strictly for souvenirs, storage, and genetic preservation.
G13 Haze - Regular Strain Specs
Regular
Normal
.
G13 x Hawaiian Sativa
Psychedelic High, Extremely Energetic, Uplifted, Euphoric
450-500
65 - 75
October
3rd-4th week
100-110cm
Medium
35%
65%
Mostly Sativa
Sage, Sweet, Fruity
Spicy, Sandalwood, Earthy, Rich, Pungent
SPECIFICATION
regular
normal
indoor/outdoor
.
G13 x Hawaiian Sativa
Psychedelic High, Extremely Energetic, Uplifted, Euphoric
450-500
65 - 75
October
3rd-4th week
100-110cm
Medium
35%
65%
Mostly Sativa
Yes
Sage, Sweet, Fruity
Spicy, Sandalwood, Earthy, Rich, Pungent