GLOOKIES STRAIN
BECOME A SUPER HERO WITH THIS MAGNIFICENT HIT OF A CANNABIS STRAIN
Gorilla Glue x Thin Mint Girl Scout Cookies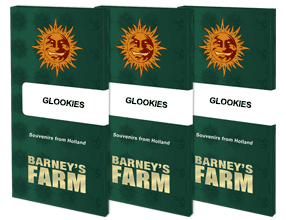 Glookies Cannabis Seeds
Type: Feminised strain
Glookies Strain by Barneys Farm
If Marvel Studios created an Avengers cannabis strain this would be it! Glookies. Witness the power from this Indica dominant superhero of a strain, created by the careful fusion of two eclectic cannabis superstars. Gorilla Glue and The Original Thin Mint Girl Scout Cookies need no introduction. Another incredible new addition to our Cali Collection arrives.
A super stoney effect will be experienced along with motivational energies that will transform your day, filling it with drive. The taste of Glookies must be experienced to be believed. Imagine hints of Sour Diesel, Key Lime and Walnuts colliding to create one of the most exotic bouquets created in the cannabis world. Expect extensive side branching and phenomenal yields from Glookies huge 25% THC laden buds. Indoor yields of 800g per m2 are achievable with outdoor weighing in at 2000-3000g per plant in ideal growing conditions.
Is Glookies Indica or Sativa?
The Glookies strain by Barneys Farm is 30% Sativa 70% Indica.
What is the best way to store my Glookies strain seeds?
To properly store Glookies seeds, it is recommended to keep them cool and dark in an airtight container ideally in a refrigerator with proper labeling and dating, avoiding freezing.
What is the best method to germinate Glookies strain seeds?
There are numerous techniques for germinating Glookies cannabis seeds if it is allowed in your location. The paper towel method is a common method in which the Glookies seeds are placed on a damp paper towel and covered with another damp paper towel to keep them moist. After that, keep the paper towel in a warm, dark spot and check on it every day to ensure that it remains moist. When the Glookies seeds have germinated, gently place them in soil or similar growth media.
Glookies strain cannabis seeds are sold strictly for souvenirs, storage, and genetic preservation.
Glookies Strain Specs
Feminised
Normal
Medium height bushy plant, Produces huge buds on many branches.
Gorilla Glue x Thin Mint Girl Scout Cookies
Relaxed but motivational
2000 - 3000
700 - 800 gr/m▓
60 - 70
October
1st-2nd week
100-180cm
100cm
180cm
Medium
70%
30%
Mostly Indica
Sour Diesel, KeyLime, Walnut
Nutty, Key Lime, Exotic
5
Cool, Hot & Temperate
SPECIFICATION
feminised
normal
indoor/outdoor
Medium height bushy plant, Produces huge buds on many branches.
Gorilla Glue x Thin Mint Girl Scout Cookies
Relaxed but motivational
2000 - 3000
700 - 800 gr/m▓
60 - 70
October
1st-2nd week
100-180cm
100cm
180cm
Medium
70%
30%
Mostly Indica
Medium
Yes
Sour Diesel, KeyLime, Walnut
Nutty, Key Lime, Exotic
5
5
5
5
5
Cool, Hot & Temperate
1