GLUE GELATO AUTO STRAIN
SOOTH YOUR ACHES AND PAINS ALWAYS WITH THIS HARD-HITTING WEST COAST AUTOFLOWER
Gorilla Glue x Gelato x BF Super Auto #1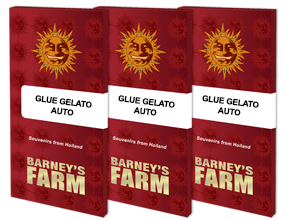 Glue Gelato Auto Cannabis Seeds
Type: Autoflowering strain
Glue Gelato Auto by Barney's Farm
Are you ready to experience the strain Glue Gelato Auto - Elite West Coast cuts have been discovered and melded into an autoflowering jewel. Make sure you try this mouth-watering mixture of Gelato and Glue at their finest. Suddenly she will send you into a sublime and soothed state. Let her unleash her mesmerising magic on you as heavenly feelings wash over your body, all your cares disappear, and a tranquil, settled frame of mind takes over. Glue Gelato can be relied upon to change your mood for the better.
Indoors you can expect yields of up to 600g / m2 whereas outdoors it is possible to harvest up to 400g of chocolatey goodness per plant in completely ideal growing conditions. Don't miss out on this potent pistil party – it's a really simple matter to take her from seed to bud in only 70 days, give her a try, you'll be glad you tried Barney's Glue Gelato Auto.
Is Glue Gelato Auto Indica or Sativa?
The Glue Gelato Auto strain by Barneys Farm is 40% Sativa 60% Indica.
What is the best way to store my Glue Gelato Auto strain seeds?
To properly store Glue Gelato Auto seeds, it is recommended to keep them cool and dark in an airtight container ideally in a refrigerator with proper labeling and dating, avoiding freezing.
What is the best method to germinate Glue Gelato Auto strain seeds?
There are numerous techniques for germinating Glue Gelato Auto cannabis seeds if it is allowed in your location. The paper towel method is a common method in which the Glue Gelato Auto seeds are placed on a damp paper towel and covered with another damp paper towel to keep them moist. After that, keep the paper towel in a warm, dark spot and check on it every day to ensure that it remains moist. When the Glue Gelato Auto seeds have germinated, gently place them in soil or similar growth media.
Glue Gelato Auto strain cannabis seeds are sold strictly for souvenirs, storage, and genetic preservation.
Glue Gelato Auto Strain Specs
Feminised
Autoflowering
.
Gorilla Glue x Gelato x BF Super Auto #1
Happy, Relaxed, Uplifted, Calming, Euphoric
500-600
500-600 gr/m²
65 - 70
90-120cm
90-120cm
90-120cm
Medium
60%
40%
Mostly Indica
Hints of Rich Chocolate, Spicy Fruity Flavor, Sweet Berries
Fruity, Sweet, Earthy, Citrus
4
SPECIFICATION
feminised
autoflowering
indoor/outdoor
.
Gorilla Glue x Gelato x BF Super Auto #1
Happy, Relaxed, Uplifted, Calming, Euphoric
500-600
500-600 gr/m²
65 - 70
90-120cm
90-120cm
90-120cm
Medium
60%
40%
Mostly Indica
Medium
Yes
Hints of Rich Chocolate, Spicy Fruity Flavor, Sweet Berries
Fruity, Sweet, Earthy, Citrus
5
4
3
4
1