GMO STRAIN
SUCCUMB TO THE ULTIMATE TEMPTATION WITH GMO, A CANNABIS STRAIN THAT TANTALIZES YOUR SENSES AND DELIVERS MASSIVE YIELDS.
Chemdawg Strain x Girl Scout Cookies Strain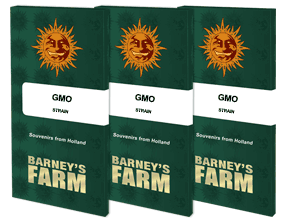 GMO Cannabis Seeds
Type: Feminised strain
GMO Strain by Barneys Farm
Are you prepared to experience the ultimate in cannabis? Get ready to succumb to the spellbinding allure of GMO, a cannabis strain that will leave you spellbound. With its powerful combination of Chemdowg and Girl Scout Cookies genetics, GMO tantalizes with its indescribable complexity and unique character. As you indulge in GMO's seductive flavour profile, you'll be swept away on a journey that transcends the boundaries of pleasure. Its terpenes are the key to unlocking a world of tantalizing tastes. Let the pungent scent of diesel fuel and earthy sour notes send shivers down your spine! Relish in the warm tingling sensations that are appreciated by lovers of this strain.
But our GMO Strain is not just about sensory pleasure; it is also a highly coveted strain that delivers extra high yields of up to 1.5 kg when grown outdoors. With its towering height and impressive stature, GMO is a reliable performer that is a joy to behold for even the most experienced of cannabis growers.
Indulge in the delights of GMO weed and let its massive THC percentage of 28% take you on trip. Its indoor yield of 550-600g/m2 are easily achieved. And with a flowering time of 75-80 days, you'll soon be anticipating the moment when you can finally relish in its euphoric effects. Don't deny yourself the pleasure of this GMO strain by Barneys Farm. Embrace its seductive charms and let yourself be swept away on a journey of pure unadulterated relaxation.
Is GMO Indica or Sativa?
The GMO strain by Barneys Farm is 10% Sativa 90% Indica.
What is the best way to store my GMO strain seeds?
To properly store GMO seeds, it is recommended to keep them cool and dark in an airtight container ideally in a refrigerator with proper labeling and dating, avoiding freezing.
What is the best method to germinate GMO strain seeds?
There are numerous techniques for germinating GMO cannabis seeds if it is allowed in your location. The paper towel method is a common method in which the GMO seeds are placed on a damp paper towel and covered with another damp paper towel to keep them moist. After that, keep the paper towel in a warm, dark spot and check on it every day to ensure that it remains moist. When the GMO seeds have germinated, gently place them in soil or similar growth media.
GMO strain cannabis seeds are sold strictly for souvenirs, storage, and genetic preservation.
GMO Strain Specs
Feminised
Normal
Chemdawg Strain x Girl Scout Cookies Strain
Euphoric, Sleepy, Uplifting, Full Body High
1.5kg per Plant
550-650 gr/m²
75 - 80
October
3rd-4th week
100-120cm
100-120cm
150 – 200cm
Medium
90%
10%
Mostly Indica
Diesel, Citrus, Pine, Garlic, Spice
Pungent, Skunky, Diesel, Citrus, Earthy, Spice
SPECIFICATION
feminised
normal
indoor/outdoor
Chemdawg Strain x Girl Scout Cookies Strain
Euphoric, Sleepy, Uplifting, Full Body High
1.5kg per Plant
550-650 gr/m²
75 - 80
October
3rd-4th week
100-120cm
100-120cm
150 – 200cm
Medium
90%
10%
Mostly Indica
No
Diesel, Citrus, Pine, Garlic, Spice
Pungent, Skunky, Diesel, Citrus, Earthy, Spice