GORILLA GLUE AUTO STRAIN
FEEL THE POWER OF THE JUNGLE WITH GORILLA GLUE AUTO
Gorilla Glue #4 x BF Super Auto #1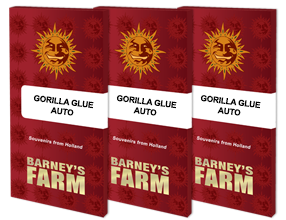 Gorilla Glue Auto Cannabis Seeds
Type: Autoflowering strain
Gorilla Glue Auto by Barney's Farm
Gorilla Glue Auto by Barney's Farm is a rapid flowering hybrid that will glue you down wherever you may be. This is not a strain for beginners and its hard hitting effects should be treated with respect.
This new super-fast version 55% Indica of our glorious Gorilla Glue crossed with the exciting next generation BF Super Auto #1 produces huge yields 600g/m2 growing to height of up to 110cm.
Gorgeous scents of coffee and cream can be detected during flowering.
Combined with notorious THC levels of 25% and you can understand the deep love people feel for this unique plant. In only 70-75 days huge fragrant flowers with very tight nodal spacing will erupt from this monstrous autoflower.
Enjoy some psychedelic exuberance from this Indica dominant addition to our Autoflowering Cali Collection, Gorilla Glue Auto by Barney's Farm.
Is Gorilla Glue Auto Indica or Sativa?
The Gorilla Glue Auto strain by Barneys Farm is 45% Sativa 55% Indica.
What is the best way to store my Gorilla Glue Auto strain seeds?
To properly store Gorilla Glue Auto seeds, it is recommended to keep them cool and dark in an airtight container ideally in a refrigerator with proper labeling and dating, avoiding freezing.
What is the best method to germinate Gorilla Glue Auto strain seeds?
There are numerous techniques for germinating Gorilla Glue Auto cannabis seeds if it is allowed in your location. The paper towel method is a common method in which the Gorilla Glue Auto seeds are placed on a damp paper towel and covered with another damp paper towel to keep them moist. After that, keep the paper towel in a warm, dark spot and check on it every day to ensure that it remains moist. When the Gorilla Glue Auto seeds have germinated, gently place them in soil or similar growth media.
Gorilla Glue Auto strain cannabis seeds are sold strictly for souvenirs, storage, and genetic preservation.
Gorilla Glue Auto Strain Specs
Feminised
Autoflowering
Gorilla Glue #4 x BF Super Auto #1
Heavy Stone
800 gr/m²
600 gr/m²
70 - 75
100cm
100-130cm
Medium
55%
45%
Mostly Indica
Creamy
Coffee and Spice
SPECIFICATION
feminised
autoflowering
indoor/outdoor
Gorilla Glue #4 x BF Super Auto #1
Heavy Stone
800 gr/m²
600 gr/m²
70 - 75
100cm
100-130cm
Medium
55%
45%
Mostly Indica
No
Creamy
Coffee and Spice