GORILLA ZKITTLEZ AUTO STRAIN
ENJOY THE ZINGY RAINBOW OF FRUIT FLAVOURS
Gorilla Glue x Zkittlez x BF Super Auto #1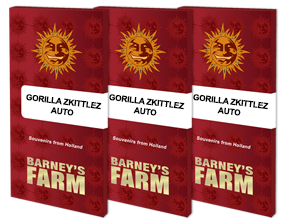 Gorilla Zkittlez Auto Cannabis Seeds
Type: Autoflowering strain
Gorilla Zkittlez Auto by Barneys' Farm
Our feminized Cali Collection best seller just got the super auto treatment. Bubble and fizz your way through the day with Gorilla Zkittlez Auto. Your taste buds will explode as you experience the fruity flavours for the first time. An initial crossing of Gorilla Glue and Zkittlez now crossed again with our BF Super auto #1 adding amazing strength and resistance to bugs and stress, the root structure passed down from our Super auto #1 bursts into life from day 1.
This unbelievably aromatic autoflower literally explodes into a pine flavoured Christmas tree in a mere 75 days, producing an abundance of glorious kushy flowers covered in huge amounts of juicy trichomes with a final height indoors of 80-100cm can be expected producing an average 420g/m². Experience the thrill of killer US genetics 'Gorilla Glue and Zkittlez' expertly wrapped up into an astonishing autoflower 20% THC package by the team at Barneys Farm Lab. Beware of sensory overload though, the medical effects of Gorilla Zkittlez Auto can be quite an exhilarating experience.
Is Gorilla Zkittlez Auto Indica or Sativa?
The Gorilla Zkittlez Auto strain by Barneys Farm is 25% Sativa 75% Indica.
What is the best way to store my Gorilla Zkittlez Auto strain seeds?
To properly store Gorilla Zkittlez Auto seeds, it is recommended to keep them cool and dark in an airtight container ideally in a refrigerator with proper labeling and dating, avoiding freezing.
What is the best method to germinate Gorilla Zkittlez Auto strain seeds?
There are numerous techniques for germinating Gorilla Zkittlez Auto cannabis seeds if it is allowed in your location. The paper towel method is a common method in which the Gorilla Zkittlez Auto seeds are placed on a damp paper towel and covered with another damp paper towel to keep them moist. After that, keep the paper towel in a warm, dark spot and check on it every day to ensure that it remains moist. When the Gorilla Zkittlez Auto seeds have germinated, gently place them in soil or similar growth media.
Gorilla Zkittlez Auto strain cannabis seeds are sold strictly for souvenirs, storage, and genetic preservation.
Gorilla Zkittlez Auto Strain Specs
Feminised
Autoflowering
Gorilla Glue x Zkittlez x BF Super Auto #1
Uplifting Euphoria
550 gr/m²
420 gr/m²
75
80-100cm
90-120cm
Medium
75%
25%
Mostly Indica
Fruit Explosion
Summer Fruits
SPECIFICATION
feminised
autoflowering
indoor/outdoor
Gorilla Glue x Zkittlez x BF Super Auto #1
Uplifting Euphoria
550 gr/m²
420 gr/m²
75
80-100cm
90-120cm
Medium
75%
25%
Mostly Indica
Medium
Yes
Fruit Explosion
Summer Fruits