ICE CREAM CAKE STRAIN
SATISFY YOUR SWEET TOOTH AND RELAX WITH ICE CREAM CAKE, A DELICIOUSLY SEDUCTIVE STRAIN WITH THERAPEUTIC BENEFITS. TREAT YOURSELF NOW!
Gelato #33 Strain x Wedding Cake Strain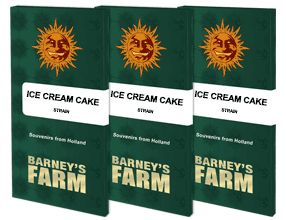 Ice Cream Cake Cannabis Seeds
Type: Feminised strain
Ice Cream Cake Strain by Barneys Farm
Are you ready to be seduced by the irresistible allure of Ice Cream Cake? This exquisite cannabis strain is a tempting blend of Wedding Cake and Gelato 33, making it a tantalizing treat for the senses. As an indica-dominant variety, Ice Cream Cake strain has the power to whisk you away into a world of pure relaxation and tranquility. Imagine unwinding after a long day with the sweet, creamy aroma of this magnificent strain caressing your senses.
Growing this seductive strain is almost too easy, with its 55–60-day s flowering period and indoor height of .9m - 1.20m, and outdoor height of 1.5m - 2m. And the reward for your efforts? An indoor yield of 550g/m2 and an outdoor yield of up to 1.5kg of dazzling cannabis flowers. With a THC content of 20-25%, you can expect a powerful and complex high that will leave you feeling blessed. The terpene profile of this tempting strain is a heavenly blend of limonene, myrcene, and caryophyllene, resulting in a scent that's sweet, creamy, and earthy, with a hint of vanilla and a pine-like undertone.
But that's not all. Our Ice Cream Cake strain is not just a pretty face; it's also highly appreciated for its therapeutic characteristics. With its limonene and myrcene content, this seductive strain offers a relaxing and soothing effect that can ease your mind and body. And the analgesic and anti-inflammatory effects of caryophyllene can help alleviate chronic pain and inflammation. Are you ready to indulge in the sinful pleasures of Ice Cream Cake? Come hither and let me show you the way.
Is Ice Cream Cake Indica or Sativa?
The Ice Cream Cake strain by Barneys Farm is 30% Sativa 70% Indica.
What is the best way to store my Ice Cream Cake strain seeds?
To properly store Ice Cream Cake seeds, it is recommended to keep them cool and dark in an airtight container ideally in a refrigerator with proper labeling and dating, avoiding freezing.
What is the best method to germinate Ice Cream Cake strain seeds?
There are numerous techniques for germinating Ice Cream Cake cannabis seeds if it is allowed in your location. The paper towel method is a common method in which the Ice Cream Cake seeds are placed on a damp paper towel and covered with another damp paper towel to keep them moist. After that, keep the paper towel in a warm, dark spot and check on it every day to ensure that it remains moist. When the Ice Cream Cake seeds have germinated, gently place them in soil or similar growth media.
Ice Cream Cake strain cannabis seeds are sold strictly for souvenirs, storage, and genetic preservation.
Ice Cream Cake Strain Specs
Feminised
Normal
Gelato #33 Strain x Wedding Cake Strain
Cerebral, Calming, Relaxed, Happy
1.5- 2kg per plant
600 gr/m²
55 - 65
September
3rd-4th week
90-110cm
90-110cm
150 – 200cm
Medium
70%
30%
Mostly Indica
Sweet, Creamy, Vanilla, Earthy, Pine
Pungent, Creamy, Cheese, Earthy, Nutty
SPECIFICATION
feminised
normal
indoor/outdoor
Gelato #33 Strain x Wedding Cake Strain
Cerebral, Calming, Relaxed, Happy
1.5- 2kg per plant
600 gr/m²
55 - 65
September
3rd-4th week
90-110cm
90-110cm
150 – 200cm
Medium
70%
30%
Mostly Indica
No
Sweet, Creamy, Vanilla, Earthy, Pine
Pungent, Creamy, Cheese, Earthy, Nutty