KUSH MINTZ STRAIN
FEATURING OUR INCREDIBLE CRITICAL KUSH NOW CROSSED WITH MINTZ
Critical Kush x Mintz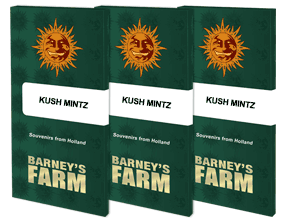 Kush Mintz Cannabis Seeds
Type: Feminised strain
Kush Mintz Strain By Barneys Farm
During our selective process on Biscotti Mintz we introduced a critical Kush pheno that displayed an unusual 30% sativa characteristic. This combined with our delicious Mintz brought something very exciting to the table, a 70% indica dominant plant, totally unique to our catalogue with amazing characteristics. Kush Mintz Strain with its powerful Himalayan OG Kush linage is extremely vigorous, powerful indica now with a 30% stative boost. The explosion of the Critical linage infusion brings huge yields both indoor and out with outdoor heights reaching 2m, super strong and sturdy with unbelievable production capabilities.
The Mintz unsurprisingly further enhances those famous earthy Pine and sweet citrus Kush aromas with hints of coffee and delicate hints of minty cookies! Kush Mintz Strain is extremely resinous, sticky to the touch with a heavy coating of trichomes covering the familiar light green colours with occasional dark green and purple contrasting fan leaves protrude from its dense flowering structure.
Is Kush Mintz Indica or Sativa?
The Kush Mintz strain by Barneys Farm is 30% Sativa 70% Indica.
What is the best way to store my Kush Mintz strain seeds?
To properly store Kush Mintz seeds, it is recommended to keep them cool and dark in an airtight container ideally in a refrigerator with proper labeling and dating, avoiding freezing.
What is the best method to germinate Kush Mintz strain seeds?
There are numerous techniques for germinating Kush Mintz cannabis seeds if it is allowed in your location. The paper towel method is a common method in which the Kush Mintz seeds are placed on a damp paper towel and covered with another damp paper towel to keep them moist. After that, keep the paper towel in a warm, dark spot and check on it every day to ensure that it remains moist. When the Kush Mintz seeds have germinated, gently place them in soil or similar growth media.
Kush Mintz strain cannabis seeds are sold strictly for souvenirs, storage, and genetic preservation.
Kush Mintz Strain Specs
Feminised
Normal
Critical Kush x Mintz
Relaxed, Happy, Uplifting
1500
600-650 gr/m▓
56 - 63
September
3rd-4th week
100-110cm
100-110cm
200cm
Medium
70%
30%
Mostly Indica
Fresh Pine, Coffee, Hint of Mint
Earthy, Pine, Minty, Coffee
4
Cool, Hot & Temperate
SPECIFICATION
feminised
normal
indoor/outdoor
Critical Kush x Mintz
Relaxed, Happy, Uplifting
1500
600-650 gr/m▓
56 - 63
September
3rd-4th week
100-110cm
100-110cm
200cm
Medium
70%
30%
Mostly Indica
No
Fresh Pine, Coffee, Hint of Mint
Earthy, Pine, Minty, Coffee
4
4
4
4
4
Cool, Hot & Temperate
2