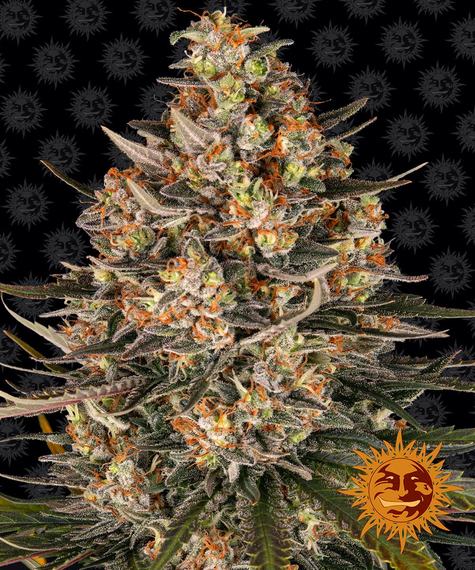 LEMON DRIZZLE STRAIN
TANTALIZE YOUR SENSES WITH LEMON DRIZZLE, A SATIVA-DOMINANT STRAIN BURSTING WITH CITRUSY FLAVOR AND A POTENT HIGH.
Super Lemon Haze Strain x OG Kush Strain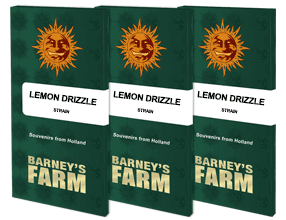 Lemon Drizzle Cannabis Seeds
Type: Feminised strain
Lemon Drizzle Strain by Barneys Farm
Indulge yourself in the tantalizing aroma of our Lemon Drizzle strain, a sensually crafted cannabis strain that is sure to tantalize your senses and leave you in a state of blissful euphoria. Bred from a seductive blend of Super Lemon Haze and OG Kush, this sativa-dominant weed strain will transport you to another plane of existence.
With a flowering time of 60-65 days, Lemon Drizzle's exquisite buds are bursting with a potent THC percentage of 20-25%, ensuring an unparalleled and satisfying high. The complex terpene profile of this alluring strain is sure to captivate your senses with notes of zesty lemon and a hint of earthy Kush undertones, providing a flavor explosion that you won't forget.
This tempting beauty grows to a height of 1m - 1.2m indoors and 1.5m - 2m outdoors. You'll be impressed by the generous indoor yield of 550g/m2, while the outdoor yield of up to 1.5 - 2kg is beyond substantial. Experience the ultimate in relaxation with Lemon Drizzle's outdoor flowering time, which begins in early October, allowing you to bask in the sweet sunshine and savor the heady effects of this tantalizing strain. Succumb to the charms of our Lemon Drizzle strain and discover a world of unadulterated pleasure that will leave you in awe.
Is Lemon Drizzle Indica or Sativa?
The Lemon Drizzle strain by Barneys Farm is 85% Sativa 15% Indica.
What is the best way to store my Lemon Drizzle strain seeds?
To properly store Lemon Drizzle seeds, it is recommended to keep them cool and dark in an airtight container ideally in a refrigerator with proper labeling and dating, avoiding freezing.
What is the best method to germinate Lemon Drizzle strain seeds?
There are numerous techniques for germinating Lemon Drizzle cannabis seeds if it is allowed in your location. The paper towel method is a common method in which the Lemon Drizzle seeds are placed on a damp paper towel and covered with another damp paper towel to keep them moist. After that, keep the paper towel in a warm, dark spot and check on it every day to ensure that it remains moist. When the Lemon Drizzle seeds have germinated, gently place them in soil or similar growth media.
Lemon Drizzle strain cannabis seeds are sold strictly for souvenirs, storage, and genetic preservation.
Lemon Drizzle Strain Specs
Feminised
Normal
Super Lemon Haze Strain x OG Kush Strain
Energizing, Uplifting, Focused, Motivated
1.5kg per plant
550 gr/m²
60 - 65
October
1st-2nd week
100-120cm
100-120cm
150 – 200cm
Medium
15%
85%
Mostly Sativa
Sour, Lemon, Sweet, Citrus Fruits
Sweet, Sour, Citrus, Pine, Earthy
SPECIFICATION
feminised
normal
indoor/outdoor
Super Lemon Haze Strain x OG Kush Strain
Energizing, Uplifting, Focused, Motivated
1.5kg per plant
550 gr/m²
60 - 65
October
1st-2nd week
100-120cm
100-120cm
150 – 200cm
Medium
15%
85%
Mostly Sativa
No
Sour, Lemon, Sweet, Citrus Fruits
Sweet, Sour, Citrus, Pine, Earthy