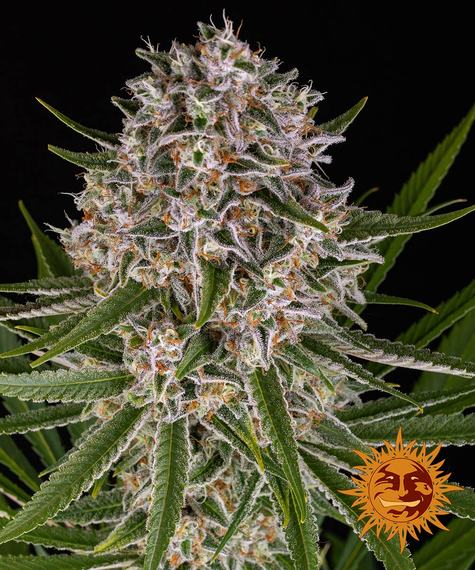 LEMON HAZE AUTO STRAIN
GET ENERGIZED AND UPLIFTED WITH THE ZESTY AND FLAVORFUL LEMON HAZE AUTO CANNABIS STRAIN
Lemon Haze Strain x BF Super Auto #1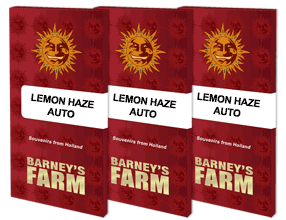 Lemon Haze Auto Cannabis Seeds
Type: Autoflowering strain
Lemon Haze Auto by Barneys Farm
Have you been on the hunt for a truly exceptional strain that will leave you feeling rejuvenated and invigorated? Look no further, we have just the thing - Lemon Haze Auto. This stunning cannabis strain is the result of a passionate and tantalizing union between the exceptional genetics of Lemon Haze and the powerful BF Super Auto #1. It's no wonder that this award-winning strain is highly sought after by both recreational and medical cannabis enthusiasts alike.
Lemon Haze Auto is the perfect choice for anyone looking for a refreshingly energizing experience. With its exhilarating and uplifting qualities, this sativa-dominant hybrid is sure to satisfy even the most demanding of palates. And the best part? This delectable strain is highly efficient, with a flowering duration of 65-70 days and yields of up to 500-550g/m2 inside and 180-250g per plant outdoors. Its modest size, reaching 90-110cm inside and 90-120cm outdoors, makes it an excellent choice for gardeners with limited space.
But let's talk about the real star of the show - Lemon Haze Auto's distinct aroma and flavor profile. With its zesty lemon scent, hint of sweetness, and earthy overtones, this strain is truly one of a kind. And don't even get me started on the taste! It's no wonder that this strain is so popular among weed enthusiasts looking for a refreshing and uplifting experience.
Lemon Haze Auto boasts a THC concentration of 20-22%, providing a balanced and long-lasting high that is characterized by an energizing and euphoric impact, making it ideal for daytime use. And with its sativa genetic makeup, it's also a viable alternative for individuals seeking treatment for anxiety and exhaustion.
So what are you waiting for? Indulge in the seductive and tantalizing Lemon Haze Auto today and experience a world of pleasure and excitement like never before!
Is Lemon Haze Auto Indica or Sativa?
The Lemon Haze Auto strain by Barneys Farm is 70% Sativa 30% Indica.
What is the best way to store my Lemon Haze Auto strain seeds?
To properly store Lemon Haze Auto seeds, it is recommended to keep them cool and dark in an airtight container ideally in a refrigerator with proper labeling and dating, avoiding freezing.
What is the best method to germinate Lemon Haze Auto strain seeds?
There are numerous techniques for germinating Lemon Haze Auto cannabis seeds if it is allowed in your location. The paper towel method is a common method in which the Lemon Haze Auto seeds are placed on a damp paper towel and covered with another damp paper towel to keep them moist. After that, keep the paper towel in a warm, dark spot and check on it every day to ensure that it remains moist. When the Lemon Haze Auto seeds have germinated, gently place them in soil or similar growth media.
Lemon Haze Auto strain cannabis seeds are sold strictly for souvenirs, storage, and genetic preservation.
Lemon Haze Auto Strain Specs
Feminised
Autoflowering
Lemon Haze Strain x BF Super Auto #1
Uplifting, Motivated
180-250 gr/plant
500-550 gr/m²
65 - 70
90-110cm
90-110cm
90-120cm
Medium
30%
70%
Mostly Sativa
Lemony Citrus Fruity
Tropical Sweet Citrus
SPECIFICATION
feminised
autoflowering
indoor/outdoor
Lemon Haze Strain x BF Super Auto #1
Uplifting, Motivated
180-250 gr/plant
500-550 gr/m²
65 - 70
90-110cm
90-110cm
90-120cm
Medium
30%
70%
Mostly Sativa
No
Lemony Citrus Fruity
Tropical Sweet Citrus