LEMON TREE STRAIN
AWARD-WINNING LEMON FLAVOURED COMBINATION OF US CLASSICS
Lemon Skunk x Sour Diesel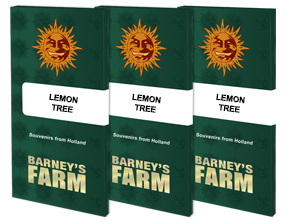 Lemon Tree Cannabis Seeds
Type: Feminised strain
Lemon Tree strain by Barneys Farm
Lemon Tree strain is an award-winning combination of the US classics Lemon Skunk & Sour Diesel oozing with deliciously high levels of Limonene and Myrcene. This easy growing perfectly balanced 55% Indica hybrid, delivers significant yields of succulent compact frosty light-green buds laced with a thick coating of trichomes releasing fresh lemon citrusy aromas, a real sensory pleasure to grow.
Lemon Tree strain Indoors utilising low stress techniques, this plant reaches final heights of around 90-100 cm, with an output of up to 650g/m2, after a relatively short flowering period of just 65-70 days.
Outdoors with longer time to evolve Lemon Tree strain can reach up to 2 metres and yield up to 1.5kg per plant finishing from the middle to end of October. Once cured savour the pungent super skunk and sour lemon aromas due to its high levels of terpenes, it's refreshing sharp tangy lemon and diesel undertones make this strain incredibly unique, keeping you lifted and joyful whatever you do throughout the day.
Is Lemon Tree Indica or Sativa?
The Lemon Tree strain by Barneys Farm is 45% Sativa 55% Indica.
What is the best way to store my Lemon Tree strain seeds?
To properly store Lemon Tree seeds, it is recommended to keep them cool and dark in an airtight container ideally in a refrigerator with proper labeling and dating, avoiding freezing.
What is the best method to germinate Lemon Tree strain seeds?
There are numerous techniques for germinating Lemon Tree cannabis seeds if it is allowed in your location. The paper towel method is a common method in which the Lemon Tree seeds are placed on a damp paper towel and covered with another damp paper towel to keep them moist. After that, keep the paper towel in a warm, dark spot and check on it every day to ensure that it remains moist. When the Lemon Tree seeds have germinated, gently place them in soil or similar growth media.
Lemon Tree strain cannabis seeds are sold strictly for souvenirs, storage, and genetic preservation.
Lemon Tree Strain Specs
Feminised
Normal
Lemon Skunk x Sour Diesel
Happy, Relaxing, Euphoric
1.5kg per plant
600-650 gr/m▓
65 - 70
October
3rd-4th week
90-100cm
150-200cm
Medium
55%
45%
Mostly Indica
Fresh Lemons, Tropical, Sour, Citrus
Sour, Lemon, Skunky, Diesel
Cool, Hot & Temperate
SPECIFICATION
feminised
normal
indoor/outdoor
Lemon Skunk x Sour Diesel
Happy, Relaxing, Euphoric
1.5kg per plant
600-650 gr/m▓
65 - 70
October
3rd-4th week
90-100cm
150-200cm
Medium
55%
45%
Mostly Indica
No
Fresh Lemons, Tropical, Sour, Citrus
Sour, Lemon, Skunky, Diesel
Cool, Hot & Temperate
1