LSD AUTO STRAIN
GET ON THE HIGHWAY TO PSYCHEDELIC JOY WITH THIS REWORKED CLASSIC AUTOFLOWER
LSD x Super Magnum Auto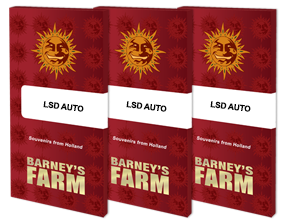 LSD Auto Cannabis Seeds
Type: Autoflowering strain
LSD Auto by Barney's Farm
We are over the moon to be able to announce the arrival of our LSD Auto strain. A crossing of our legendary LSD with our monster autoflowering lineage. Like her legendary predecessor LSD Auto really packs a punch and will quickly send you flying into another dimension with a crackle. LSD Auto comes on fast as right before you reality starts to distort into a pulsing psychedelic painting.
This is not a strain to be recommended for beginners. Despite her powerful effect, she's simple to grow and anybody can take advantage of this super speedy route to some seriously mind bending genetics. Let her pungent power slice through your mind and soul – why don't you take a trip down LSD avenue with LSD Auto.
When growing LSD Auto outdoors you can expect yields of up to 400 grams of musky earthy buds per plant, with indoor coverage at a very respectable 650g / m2.
Is LSD Auto Indica or Sativa?
The LSD Auto strain by Barneys Farm is 30% Sativa 70% Indica.
What is the best way to store my LSD Auto strain seeds?
To properly store LSD Auto seeds, it is recommended to keep them cool and dark in an airtight container ideally in a refrigerator with proper labeling and dating, avoiding freezing.
What is the best method to germinate LSD Auto strain seeds?
There are numerous techniques for germinating LSD Auto cannabis seeds if it is allowed in your location. The paper towel method is a common method in which the LSD Auto seeds are placed on a damp paper towel and covered with another damp paper towel to keep them moist. After that, keep the paper towel in a warm, dark spot and check on it every day to ensure that it remains moist. When the LSD Auto seeds have germinated, gently place them in soil or similar growth media.
LSD Auto strain cannabis seeds are sold strictly for souvenirs, storage, and genetic preservation.
LSD Auto Strain Specs
Feminised
Autoflowering
.
LSD x Super Magnum Auto
Social, Vivid and Psychedelic Body High, Euphoric, Uplifted, Calming, Relaxed
400 per plant
650 gr/m²
65 - 70
90-120cm
90cm
120cm
Medium
70%
30%
Mostly Indica
Earthy Chestnut, Mango, Citrus, Sweet & Sour
Musky, Earthy Flower, Herbal, Skunky, Pungent
5
SPECIFICATION
feminised
autoflowering
indoor/outdoor
.
LSD x Super Magnum Auto
Social, Vivid and Psychedelic Body High, Euphoric, Uplifted, Calming, Relaxed
400 per plant
650 gr/m²
65 - 70
90-120cm
90cm
120cm
Medium
70%
30%
Mostly Indica
Medium
Yes
Earthy Chestnut, Mango, Citrus, Sweet & Sour
Musky, Earthy Flower, Herbal, Skunky, Pungent
5
4
5
5
1