MIMOSA EVO STRAIN
TAKE A MAGICAL CARPET RIDE ON THIS POWERFUL BALANCED ADDITION TO OUR CALI COLLECTION
Mimosa x Orange Punch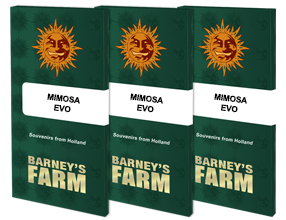 Mimosa EVO Cannabis Seeds
Type: Feminised strain
Mimosa EVO Strain by Barneys Farm
Mimosa EVO strain: The long awaited release from the lab at Barneys Farm has finally happened and our twist on these monster genetics have their seal of approval. Arise Mimosa EVO! Evolved from a famous Emerald Triangle cut originally bred by Symbiotic Genetics now supercharged with our priceless Orange Punch from the Barneys Farm vault. This 60% Indica dominant favourite is packed with Large frosted buds, rich in star studded cannabinoids and terpenes.
Growers will adore her zesty tropical lemony citrus taste with hints of berries to accompany the euphoric yet restful effects. Mimosa EVO Strain is real food for the brain, expect floaty feelings that will stay with you through the day. THC levels are possible up to 30% by a grand master but 24-26% is more than enough for the indulgence of mere mortals.
Mimosa EVO Strain supercharged yields can be just insane, 700g/m2 easily achieved indoors allow extra space with optimum growing conditions. Mimosa EVO Strain is ideal for outdoor growing and you may need ladders! Rising to over 2 - 2.2m she will have completed her flowering period by early October after 65 day + of flowering, with potential yields of over 2kg per plant.
Is Mimosa EVO Indica or Sativa?
The Mimosa EVO strain by Barneys Farm is 40% Sativa 60% Indica.
What is the best way to store my Mimosa EVO strain seeds?
To properly store Mimosa EVO seeds, it is recommended to keep them cool and dark in an airtight container ideally in a refrigerator with proper labeling and dating, avoiding freezing.
What is the best method to germinate Mimosa EVO strain seeds?
There are numerous techniques for germinating Mimosa EVO cannabis seeds if it is allowed in your location. The paper towel method is a common method in which the Mimosa EVO seeds are placed on a damp paper towel and covered with another damp paper towel to keep them moist. After that, keep the paper towel in a warm, dark spot and check on it every day to ensure that it remains moist. When the Mimosa EVO seeds have germinated, gently place them in soil or similar growth media.
Mimosa EVO strain cannabis seeds are sold strictly for souvenirs, storage, and genetic preservation.
Mimosa EVO Strain Specs
Feminised
Normal
Mimosa x Orange Punch
Happy, Uplifted,
2000g
700 gr/m▓
65 - 70
October
3rd-4th week
80-90cm
180-220cm
Medium
60%
40%
Mostly Indica
Tropical Lemon, Orange Citrus, Hints of Berries
Fruit Punch, Citrus, Tangerine
SPECIFICATION
feminised
normal
indoor/outdoor
Mimosa x Orange Punch
Happy, Uplifted,
2000g
700 gr/m▓
65 - 70
October
3rd-4th week
80-90cm
180-220cm
Medium
60%
40%
Mostly Indica
Medium
Yes
Tropical Lemon, Orange Citrus, Hints of Berries
Fruit Punch, Citrus, Tangerine
2