MIMOSA X ORANGE PUNCH STRAIN
MIMOSA EVOLUTION CONTINUES! A NEW EXPLOSIVE ORANGE FLAVOURED SUPER COMPACT SENSATION.
Mimosa Evo x Orange Punch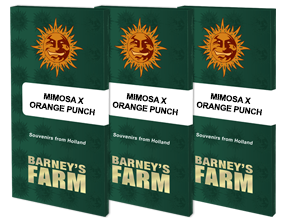 Mimosa x Orange Punch Cannabis Seeds
Type: Feminised strain
Mimosa x Orange Punch Strain by Barneys Farm
The Mimosa evolution continues with this new explosive orange flavoured super compact sensation, behold another brand-new super strain from the lab at Barney's Farm. Ingeniously created by a further careful back crossing of our famous Orange Punch with the 2020 sensation Mimosa Evo.
This additional genetic infusion resulted in an astounding fast producer of gorgeous smelling bud; beta-caryophyllene, linalool and limonene terpenes create a sensational citrus-like, tangerine-candy sweet aroma. This crossing produced an extra compact plant compared to Mimosa Evo yet manages to maintain the staggering high production performance.
Without a doubt one of the most colourful editions to our Cali Collection, the accompanied photos are from the BF Lab final harvest assessment and feature this elegant plant's deep gradients of purple, such beauty is rarely seen anywhere in the plant world, a real aesthetic treat for even the most experienced grower. This champion will be an utter delight, a very sturdy plant producing multiple large dense highly resinous and heavy buds, covered in bright orange pistils just dripping in trichomes. During testing it's been described as an indoor cultivator's dream! A rapid flowering period of just 55 to 60 days harvesting 700g/m2.
Outdoors in ideal conditions Mimosa x Orange Punch Strain reaches heights of 1.5m – 1.8 metres producing in excess of 1.5kg of huge very compact colas of exquisite and delicious cannabis. At harvest time the enjoyment of this strain really goes up a notch, dense heavy buds are extremely easy to manicure and with the onset of the ever-increasing delicious citrusy candy orange aromas come to life. THC has been tested at an incredible 30%
Is Mimosa x Orange Punch Indica or Sativa?
The Mimosa x Orange Punch strain by Barneys Farm is 35% Sativa 65% Indica.
What is the best way to store my Mimosa x Orange Punch strain seeds?
To properly store Mimosa x Orange Punch seeds, it is recommended to keep them cool and dark in an airtight container ideally in a refrigerator with proper labeling and dating, avoiding freezing.
What is the best method to germinate Mimosa x Orange Punch strain seeds?
There are numerous techniques for germinating Mimosa x Orange Punch cannabis seeds if it is allowed in your location. The paper towel method is a common method in which the Mimosa x Orange Punch seeds are placed on a damp paper towel and covered with another damp paper towel to keep them moist. After that, keep the paper towel in a warm, dark spot and check on it every day to ensure that it remains moist. When the Mimosa x Orange Punch seeds have germinated, gently place them in soil or similar growth media.
Mimosa x Orange Punch strain cannabis seeds are sold strictly for souvenirs, storage, and genetic preservation.
Mimosa X Orange Punch Strain Specs
Feminised
Normal
Mimosa Evo x Orange Punch
Euphoric, Happy, Uplifted
1.5 kg per plant
700 gr/m▓
55 - 60
September
3rd-4th week
70-80cm
150-180cm
Medium
65%
35%
Mostly Indica
Citrusy, Candy, Orange
Sweet, hints of Mandarin
SPECIFICATION
feminised
normal
indoor/outdoor
Mimosa Evo x Orange Punch
Euphoric, Happy, Uplifted
1.5 kg per plant
700 gr/m▓
55 - 60
September
3rd-4th week
70-80cm
150-180cm
Medium
65%
35%
Mostly Indica
No
Citrusy, Candy, Orange
Sweet, hints of Mandarin
1