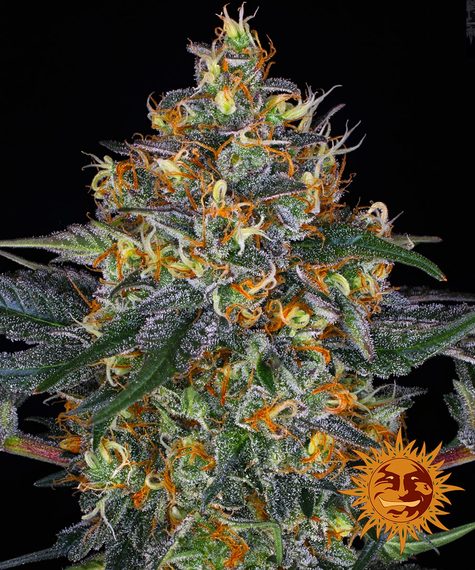 MOBY DICK AUTO STRAIN
MOBY DICK NOW CROSSED WITH OUR BF SUPER AUTO #1
Moby Dick x BF Super Auto #1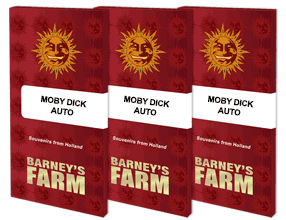 Moby Dick Auto Cannabis Seeds
Type: Autoflowering strain
Moby Dick Auto by Barneys Farm
Moby Dick Auto was created using White Widow, one of the world's most popular strains over the last two decades then crossed with our Cup winning G13 Haze. Featuring these two legendary strains expertly fused by Barneys Farm, MOBY DICK has evolved once more now crossed with our BF Super Auto #1
With its parents some of the biggest yielders you can find could only mean one thing. Breath-taking production, strong, robust, and perfectly balanced genetics creating a highly mould resistant Sativa dominant power plant. Our Moby Dick Auto version is now more compact, with a shorter autoflowering growing cycle but little has been lost in its production capabilities, power, and flavours.
It's complex terpene profile with Terpinolene, β-Myrcene, β-caryophyllene and Limonene to name just a few creates nostalgic aromas of Sour Lemon, Haze, and subtle Hints of Spicy Pine Incense and Vanilla.
Is Moby Dick Auto Indica or Sativa?
The Moby Dick Auto strain by Barneys Farm is 70% Sativa 30% Indica.
What is the best way to store my Moby Dick Auto strain seeds?
To properly store Moby Dick Auto seeds, it is recommended to keep them cool and dark in an airtight container ideally in a refrigerator with proper labeling and dating, avoiding freezing.
What is the best method to germinate Moby Dick Auto strain seeds?
There are numerous techniques for germinating Moby Dick Auto cannabis seeds if it is allowed in your location. The paper towel method is a common method in which the Moby Dick Auto seeds are placed on a damp paper towel and covered with another damp paper towel to keep them moist. After that, keep the paper towel in a warm, dark spot and check on it every day to ensure that it remains moist. When the Moby Dick Auto seeds have germinated, gently place them in soil or similar growth media.
Moby Dick Auto strain cannabis seeds are sold strictly for souvenirs, storage, and genetic preservation.
Moby Dick Auto Strain Specs
Feminised
Autoflowering
Moby Dick x BF Super Auto #1
Uplifting Energetic, Chatty Effect
550 g/m2
550 g/m2 gr/m²
65 - 70
100-120cm
100cm
120cm
Medium
30%
70%
Mostly Sativa
Earthy, Sweet Citrus, Pine
Sour Lemon, Haze, Subtle Hints of Spicy Pine Incense and Vanilla
3
Cool, Hot & Temperate
SPECIFICATION
feminised
autoflowering
indoor
Moby Dick x BF Super Auto #1
Uplifting Energetic, Chatty Effect
550 g/m2
550 g/m2 gr/m²
65 - 70
100-120cm
100cm
120cm
Medium
30%
70%
Mostly Sativa
No
Earthy, Sweet Citrus, Pine
Sour Lemon, Haze, Subtle Hints of Spicy Pine Incense and Vanilla
4
2
4
4
3
Cool, Hot & Temperate
4