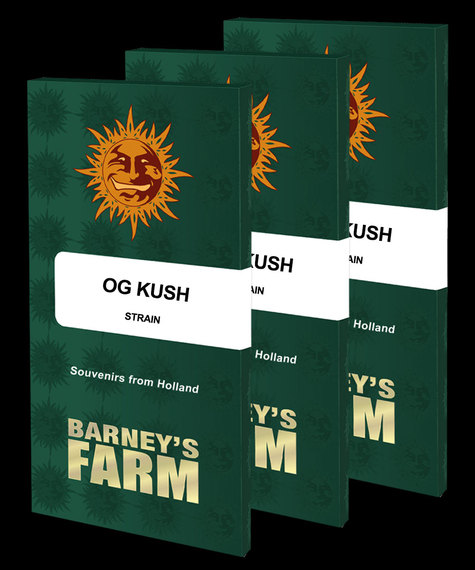 OG KUSH STRAIN
SUCCUMB TO THE LUSCIOUS ALLURE OF OG KUSH, A SEDUCTIVE STRAIN WITH ROBUST THC LEVELS AND UNIQUE TERPENE PROFILE.
Chemdawg Strain x Lemon Thai Strain x Hindu Kush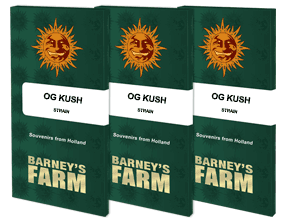 OG Kush Cannabis Seeds
Type: Feminised strain
OG Kush Strain by Barneys Farm
It's time to indulge in the luscious allure of this OG Kush strain, a renowned cannabis strain that boasts a strong genetic pedigree. A tantalizing crossbreed of Chemdawg, Lemon Thai, and Hindu Kush, this strain's complex chemical makeup and distinct terpene profile make it a perennial favorite among cannabis aficionados. The unrivalled strength of our OG Kush strain is simply irresistible, take note of her THC levels that range from 23% to an astonishing 26%. The Indica genetics make it an ideal weed strain for those seeking profound relaxation, pain treatment, and stress alleviation. With robust and long-lasting effects, this remarkable strain is a favorite among seasoned users.
Experience the sheer pleasure of a quick blooming cycle that takes just 55-65 days, allowing growers to savor the beauty of their flowers sooner than with some other strains. When grown indoors, OG Kush can reach a height of 1m to 1.20m and yield an astonishing 550g/m2, while outdoor growth can reach towering heights of 1.5m to 2.5m and yield up to 1.5kg, making it a popular choice for outdoor farmers.
Indulge in the unique terpene profile of OG Kush, a scent that is unparalleled amongst cannabis strains. The tantalizing presence of myrcene, limonene, and caryophyllene contribute to its earthy and pungent aroma. High concentrations of myrcene, the seductive terpene found in OG Kush, make it the perfect pick for those seeking deep and long-lasting relaxation. Succumb to the intoxicating pleasure of this original OG Kush strain genetics by Barneys Farm, a strain that will take you on a journey of sheer pleasure. Its complex genetic makeup, distinct terpene profile, and robust THC levels make this a seductive strain that is simply impossible to resist.
Is OG Kush Indica or Sativa?
The OG Kush strain by Barneys Farm is 30% Sativa 70% Indica.
What is the best way to store my OG Kush strain seeds?
To properly store OG Kush seeds, it is recommended to keep them cool and dark in an airtight container ideally in a refrigerator with proper labeling and dating, avoiding freezing.
What is the best method to germinate OG Kush strain seeds?
There are numerous techniques for germinating OG Kush cannabis seeds if it is allowed in your location. The paper towel method is a common method in which the OG Kush seeds are placed on a damp paper towel and covered with another damp paper towel to keep them moist. After that, keep the paper towel in a warm, dark spot and check on it every day to ensure that it remains moist. When the OG Kush seeds have germinated, gently place them in soil or similar growth media.
OG Kush strain cannabis seeds are sold strictly for souvenirs, storage, and genetic preservation.
OG Kush Strain Specs
Feminised
Normal
Chemdawg Strain x Lemon Thai Strain x Hindu Kush
Cerebral, Happy, Relaxing, Sociable, Uplifting
1.5- 2kg per plant
600 gr/m²
55 - 65
October
1st-2nd week
100-120cm
100-120cm
150 – 200cm
Medium
70%
30%
Mostly Indica
Sour, Citrus, Herbal, Skunky, Woody Pine
Citrus, Sour, Pungent, Skunky, Dank, Earthy
SPECIFICATION
feminised
normal
indoor
Chemdawg Strain x Lemon Thai Strain x Hindu Kush
Cerebral, Happy, Relaxing, Sociable, Uplifting
1.5- 2kg per plant
600 gr/m²
55 - 65
October
1st-2nd week
100-120cm
100-120cm
150 – 200cm
Medium
70%
30%
Mostly Indica
No
Sour, Citrus, Herbal, Skunky, Woody Pine
Citrus, Sour, Pungent, Skunky, Dank, Earthy