PEYOTE COOKIES STRAIN
BEND YOUR MIND AND SOOTH YOUR SOUL WITH THIS PSYCHEDELIC COOKIES CROSS
Peyote Purple x Cookies Kush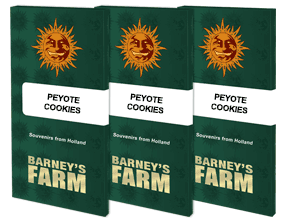 Peyote Cookies Cannabis Seeds
Type: Feminised strain
Peyote Cookies strain by Barneys Farm
Peyote Cookies strain originates from crossing Peyote Purple and our Legendary Cookies Kush. A large and detailed selection and back-crossing process isolated the very best qualities of both parents into one strain. The resulting plant is a vigorous hybrid, robust and easy to grow. Peyote Cookies strain grows into a heavy and dense stocky plant with strong branches needed to support its dense and resinous buds.
The flowering plant displays a dazzling ruby red and purple complexion. This strain is mould and mildew resistant and grows superbly both indoors or outdoors. Peyote Cookies has a very intense guava and earthy flavour, with impressions of vanilla and coffee with a powerful, relaxing and long lasting effect.
Is Peyote Cookies Indica or Sativa?
The Peyote Cookies strain by Barneys Farm is 5% Sativa 95% Indica.
What is the best way to store my Peyote Cookies strain seeds?
To properly store Peyote Cookies seeds, it is recommended to keep them cool and dark in an airtight container ideally in a refrigerator with proper labeling and dating, avoiding freezing.
What is the best method to germinate Peyote Cookies strain seeds?
There are numerous techniques for germinating Peyote Cookies cannabis seeds if it is allowed in your location. The paper towel method is a common method in which the Peyote Cookies seeds are placed on a damp paper towel and covered with another damp paper towel to keep them moist. After that, keep the paper towel in a warm, dark spot and check on it every day to ensure that it remains moist. When the Peyote Cookies seeds have germinated, gently place them in soil or similar growth media.
Peyote Cookies strain cannabis seeds are sold strictly for souvenirs, storage, and genetic preservation.
Peyote Cookies Strain Specs
Feminised
Normal
.
Peyote Purple x Cookies Kush
Relaxing Bliss, Powerful, Hungry, Euphoria, Happy
600
550-600 gr/m▓
55 - 60
October
2nd-3rd week
90-100cm
90-100cm
90-100cm
Medium
95%
5%
Mostly Indica
Sugary, Tropical Guava, Fresh Coffee, Vanilla
Tropical, Sweet, Earthy, Nutty, Vanilla, Coffee
SPECIFICATION
feminised
normal
indoor/outdoor
.
Peyote Purple x Cookies Kush
Relaxing Bliss, Powerful, Hungry, Euphoria, Happy
600
550-600 gr/m▓
55 - 60
October
2nd-3rd week
90-100cm
90-100cm
90-100cm
Medium
95%
5%
Mostly Indica
Medium
Yes
Sugary, Tropical Guava, Fresh Coffee, Vanilla
Tropical, Sweet, Earthy, Nutty, Vanilla, Coffee
5
5
1