PEYOTE CRITICAL STRAIN
MAKE SURE YOU MAKE THIS MIND-EXPANDING MARVEL PLANT PART OF YOUR DAY
Peyote Purple x Critical Kush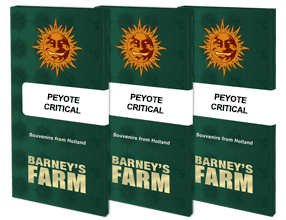 Peyote Critical Cannabis Seeds
Type: Feminised strain
Peyote Critical strain by Barney's Farm
Are you ready for something special from the Barney's lab? Get ready for Peyote Critical strain. It's an exclusive limited edition pure Indica hybrid, with awesome yield potential and fantastic pest resistance qualities. Peyote Critical strain "limited edition" has been created by crossing Peyote Purple and CRITICAL KUSH. The result is an Indica hybrid that combines all the raw power of the CRITICAL KUSH with the notorious sweet flavour and colourful brilliance of the Peyote Purple. These two plants are perfectly matched, their striking similarities making this a truly harmonious blend. Both parent plants are short flowering, produce exceptional yields and are tough too.
Built to resist, this hybrid comes with a natural force field against pests and diseases. Our lab was looking for a powerful plant with a unique taste and Peyote Critical strain ticks that box. One for the senses, delicious sweet earthy flavours, and aromas of aged wood and sweet coffee. This plant is recommended for all levels of grower – those new to cultivation but also experienced growers looking for something different. Powerful, sweet tasting and big yielding,
Is Peyote Critical Indica or Sativa?
The Peyote Critical strain by Barneys Farm is 20% Sativa 80% Indica.
What is the best way to store my Peyote Critical strain seeds?
To properly store Peyote Critical seeds, it is recommended to keep them cool and dark in an airtight container ideally in a refrigerator with proper labeling and dating, avoiding freezing.
What is the best method to germinate Peyote Critical strain seeds?
There are numerous techniques for germinating Peyote Critical cannabis seeds if it is allowed in your location. The paper towel method is a common method in which the Peyote Critical seeds are placed on a damp paper towel and covered with another damp paper towel to keep them moist. After that, keep the paper towel in a warm, dark spot and check on it every day to ensure that it remains moist. When the Peyote Critical seeds have germinated, gently place them in soil or similar growth media.
Peyote Critical strain cannabis seeds are sold strictly for souvenirs, storage, and genetic preservation.
Peyote Critical Strain Specs
Feminised
Normal
80% Indica
Peyote Purple x Critical Kush
Mystical, Body Calming, Deep, Focused, Uplifting
650 gr/m▓
1000
50 - 60
October
1st-2nd week
High
100-180cm
100-130cm
140-180cm
Tall
10
25
80%
20%
0%
Mostly Indica
Vanilla, Mango, Blueberry, Earthy
Aged Wood, Sweet, Coffee
5
20 ltr
Cool, Hot & Temperate
SPECIFICATION
feminised
normal
indoor/outdoor
80% Indica
Peyote Purple x Critical Kush
Mystical, Body Calming, Deep, Focused, Uplifting
650 gr/m▓
1000
50 - 60
October
1st-2nd week
High
100-180cm
100-130cm
140-180cm
Tall
10
25
80%
20%
0%
Mostly Indica
High
Yes
Vanilla, Mango, Blueberry, Earthy
Aged Wood, Sweet, Coffee
5
5
4
5
20 ltr
Cool, Hot & Temperate
2