PINEAPPLE EXPRESS AUTO STRAIN
FEEL THE POWER OF THE PINEAPPLE WITH THIS SENSUAL, SUPER-FAST INDICA AUTOFLOWER
Pineapple Chunk x BF Super Auto #1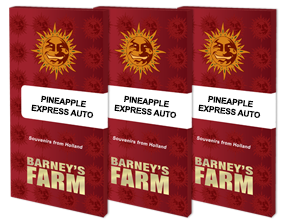 Pineapple Express Auto Cannabis Seeds
Type: Autoflowering strain
Pineapple Express Auto by Barney's Farm
Our world famous Pineapple Express is now available in an autoflowering strain. Pineapple Express Auto is a hardy, fast flowering and easy to grow cannabis plant giving generous yields of heavy buds coated in resin. Pineapple Express Auto produces an impressive 600g/m² of delicious earthy Indica.
The vegetation period is just four weeks with a flowering period of just thirty days. Pineapple Express Auto exudes mouth-watering sweet aromas with an intense pineapple flavour. The effect of this amazing strain allows the body to relax by creating stress reducing calmness.
Is Pineapple Express Auto Indica or Sativa?
The Pineapple Express Auto strain by Barneys Farm is 30% Sativa 70% Indica.
What is the best way to store my Pineapple Express Auto strain seeds?
To properly store Pineapple Express Auto seeds, it is recommended to keep them cool and dark in an airtight container ideally in a refrigerator with proper labeling and dating, avoiding freezing.
What is the best method to germinate Pineapple Express Auto strain seeds?
There are numerous techniques for germinating Pineapple Express Auto cannabis seeds if it is allowed in your location. The paper towel method is a common method in which the Pineapple Express Auto seeds are placed on a damp paper towel and covered with another damp paper towel to keep them moist. After that, keep the paper towel in a warm, dark spot and check on it every day to ensure that it remains moist. When the Pineapple Express Auto seeds have germinated, gently place them in soil or similar growth media.
Pineapple Express Auto strain cannabis seeds are sold strictly for souvenirs, storage, and genetic preservation.
Pineapple Express Auto Strain Specs
Feminised
Autoflowering
.
Pineapple Chunk x BF Super Auto #1
Stress Reducing, Calm, Sensual, Relaxing, Mellow
600 gr/m²
60 - 65
100/110cm
100/110cm
100/110cm
Medium
70%
30%
Mostly Indica
Rich, Tropical, Intense Pineapple
Mouth-Watering, Sweet Pineapple, Tropical Fruits
SPECIFICATION
feminised
autoflowering
indoor/outdoor
.
Pineapple Chunk x BF Super Auto #1
Stress Reducing, Calm, Sensual, Relaxing, Mellow
600 gr/m²
60 - 65
100/110cm
100/110cm
100/110cm
Medium
70%
30%
Mostly Indica
Medium
Yes
Rich, Tropical, Intense Pineapple
Mouth-Watering, Sweet Pineapple, Tropical Fruits