PINEAPPLE EXPRESS STRAIN
WONDERFULLY FLAVORFUL LEGENDARY 60% SATIVA LEANING HYBRID
Hawaiian Landrace Sativa x Trainwreck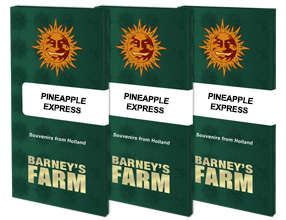 Pineapple Express Cannabis Seeds
Type: Feminised strain
Pineapple Express Strain by Barneys Farm
Pineapple Express strain is a wonderfully flavorful truly legendary 60% sativa leaning hybrid, powered by a myrcene dominant terpene profile with a genetic heritage pedigree that speaks for itself. Pineapple Express seeds when grown are naturally highly resistant to molds and diseases and does not require any special skills to grow. This is the perfect package that oozes energizing effects, therapeutic benefits, and the most amazing aromas and flavors.
Pineapple Express weed is a cross between a landrace Hawaiian sativa evolved over generations selected by the farmers of the region and Trainwreck, a pioneering fusion of genetics born from the selective crossings of Afghani, Mexican sativa, and Thai landraces. Pineapple Express strain is a medium to tall plant reaching heights indoors of 110-140cm, outdoors well! Under the right conditions can grow over 2 meters. Flowering time indoors 55-65 days / outdoors approximately early to middle of October.
Pineapple Express grows in to a dense but slightly stretched structure, contrasting light green foliage, follows by super chunky popcorn shaped buds emerge that shine with a lime and yellow coloring covered in Highly Resinous heavy sticky trichomes with fiery bright red and amber hairs resinous buds that can exceed 25% THC, and is most potent when 'supercropped', that exude unique scents of sweet pineapple and cedar, undertones of spices and cedar.
Pineapple Express weed has the effects typical of a sativa strain with a fast-acting cerebral rush,long-lasting energetic effects materializing into a blast of energy initial energy boost, followed by a calming yet stimulating happily focused and alert full-body high followed by the sensation of relaxation and chatty happiness. The taste and aromas from Pineapple Express are distinctly tropical with fresh-cut pineapple with tropical fruit and mango with undertones of cedar and spice. Its smokey aromas are distinctively funky and skunky unique with a powerful citrus scent and irresistible fruity citrus blend.
Is Pineapple Express Indica or Sativa?
The Pineapple Express strain by Barneys Farm is 60% Sativa 40% Indica.
What is the best way to store my Pineapple Express strain seeds?
To properly store Pineapple Express seeds, it is recommended to keep them cool and dark in an airtight container ideally in a refrigerator with proper labeling and dating, avoiding freezing.
What is the best method to germinate Pineapple Express strain seeds?
There are numerous techniques for germinating Pineapple Express cannabis seeds if it is allowed in your location. The paper towel method is a common method in which the Pineapple Express seeds are placed on a damp paper towel and covered with another damp paper towel to keep them moist. After that, keep the paper towel in a warm, dark spot and check on it every day to ensure that it remains moist. When the Pineapple Express seeds have germinated, gently place them in soil or similar growth media.
Pineapple Express strain cannabis seeds are sold strictly for souvenirs, storage, and genetic preservation.
Pineapple Express Strain Specs
Feminised
Normal
Hawaiian Landrace Sativa x Trainwreck
Fast-Acting Cerebral Rush, Relaxation, Happiness,
1500gr-2000gr
600-700 gr/m▓
60 - 65
October
1st-2nd week
120-140cm
120-140cm
200-250cm
Medium
40%
60%
Mostly Sativa
Bright Citrus Notes, Pineapple, Earthy, Pine
Fresh-Cut Pineapple, Tropical Fruit Undertones
2
Cool, Hot & Temperate
SPECIFICATION
feminised
normal
indoor
Hawaiian Landrace Sativa x Trainwreck
Fast-Acting Cerebral Rush, Relaxation, Happiness,
1500gr-2000gr
600-700 gr/m▓
60 - 65
October
1st-2nd week
120-140cm
120-140cm
200-250cm
Medium
40%
60%
Mostly Sativa
No
Bright Citrus Notes, Pineapple, Earthy, Pine
Fresh-Cut Pineapple, Tropical Fruit Undertones
5
4
3
3
2
Cool, Hot & Temperate
1