PURPLE PUNCH AUTO STRAIN
ENJOY THE PUNGENT POWER OF THE PURPLE PUNCH IN FURIOUS AUTOFLOWERING FORMAT
Purple Punch x BF Auto Critical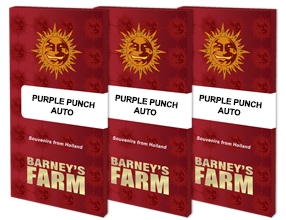 Purple Punch Auto Cannabis Seeds
Type: Autoflowering strain
Purple Punch Auto by Barney's Farm
Crossing PURPLE PUNCH with our monster BF AUTO CRITICAL has been nothing short of spectacular. Imagine the taste, incredible relaxing effects and potential yields from this mind blowing USA X Barneys Farm linage! Granddaddy Purple x Larry OG x Big Bud x Skunk #1 This Indica dominant strain, 80cm, 18% THC, 1% CBD autoflowering beauty serves up a mouth-watering combination ensuring a happy, euphoric, relaxing sensation ideal for de-stressing after a long day.
Combine that with a distinctive taste of baked sweet Apple Pie with cloves along with the ensuing mind provoking aromas reminiscent of your favourite bakery. Indoors you can expect this plant to produce upwards of a whopping 350g/m2 per plant, exploding from seed to bud in an extremely rapid 50-60 days! Outdoors if grown, well she is capable of delivering up to 400g per plant.
Is Purple Punch Auto Indica or Sativa?
The Purple Punch Auto strain by Barneys Farm is 20% Sativa 80% Indica.
What is the best way to store my Purple Punch Auto strain seeds?
To properly store Purple Punch Auto seeds, it is recommended to keep them cool and dark in an airtight container ideally in a refrigerator with proper labeling and dating, avoiding freezing.
What is the best method to germinate Purple Punch Auto strain seeds?
There are numerous techniques for germinating Purple Punch Auto cannabis seeds if it is allowed in your location. The paper towel method is a common method in which the Purple Punch Auto seeds are placed on a damp paper towel and covered with another damp paper towel to keep them moist. After that, keep the paper towel in a warm, dark spot and check on it every day to ensure that it remains moist. When the Purple Punch Auto seeds have germinated, gently place them in soil or similar growth media.
Purple Punch Auto strain cannabis seeds are sold strictly for souvenirs, storage, and genetic preservation.
Purple Punch Auto Strain Specs
Feminised
Autoflowering
Grows short with numerous branches
Purple Punch x BF Auto Critical
De-stressing & relaxing
400
350-400 gr/m²
50 - 60
70-80cm
70-80cm
80cm
Short
80%
20%
Mostly Indica
Baked Apple Pie with cloves
Your favourite bakery
3
Cool, Hot & Temperate
SPECIFICATION
feminised
autoflowering
indoor/outdoor
Grows short with numerous branches
Purple Punch x BF Auto Critical
De-stressing & relaxing
400
350-400 gr/m²
50 - 60
70-80cm
70-80cm
80cm
Short
80%
20%
Mostly Indica
Medium
Yes
Baked Apple Pie with cloves
Your favourite bakery
3
5
5
5
3
Cool, Hot & Temperate
1