PURPLE PUNCH STRAIN
ENJOY THE INCREDIBLE AND UNIQUE FLAVOURS OF THE ONE AND ONLY PURPLE PUNCH
Granddaddy Purple x Larry OG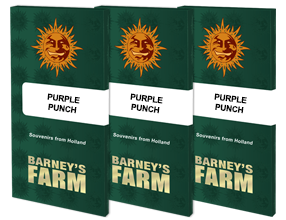 Purple Punch Cannabis Seeds
Type: Feminised strain
Purple Punch strain by Barney's Farm
Purple Punch strain - Barney's Farm continues to bring you awe-inspiring genetics from around the globe with another USA west coast powerhouse of a strain Purple Punch. The delicate fusing of its Indica dominant parents Larry OG x Granddaddy Purple has provided a real tantalising gem.
The exquisite smooth sensual tastes of Baked Apple Pie with cloves glazed with caramelised blueberry and cherries blend perfectly with the sedative calming effects that Purple Punch strain oozes. Expect a Short stocky plant with numerous astonishing trichome laden, high yielding branches just dripping with resin tested at 25% THC. This plant has a serious genetic steroid issue!!! It will flower in 50-60 days, reach 1.5m outdoors and produce up to 2kg.
Is Purple Punch Indica or Sativa?
The Purple Punch strain by Barneys Farm is 10% Sativa 90% Indica.
What is the best way to store my Purple Punch strain seeds?
To properly store Purple Punch seeds, it is recommended to keep them cool and dark in an airtight container ideally in a refrigerator with proper labeling and dating, avoiding freezing.
What is the best method to germinate Purple Punch strain seeds?
There are numerous techniques for germinating Purple Punch cannabis seeds if it is allowed in your location. The paper towel method is a common method in which the Purple Punch seeds are placed on a damp paper towel and covered with another damp paper towel to keep them moist. After that, keep the paper towel in a warm, dark spot and check on it every day to ensure that it remains moist. When the Purple Punch seeds have germinated, gently place them in soil or similar growth media.
Purple Punch strain cannabis seeds are sold strictly for souvenirs, storage, and genetic preservation.
Purple Punch Strain Specs
Feminised
Normal
Short, stocky. Numerous high yielding branches
Granddaddy Purple x Larry OG
Very relaxed & de-stressing
2000
600 - 700 gr/m▓
50 - 60
September
2nd-3rd week
90-150cm
90cm
150cm
Medium
90%
10%
Mostly Indica
Apple Pie baked with Cloves
Your favourite bakery
4
Cool, Hot & Temperate
SPECIFICATION
feminised
normal
indoor/outdoor
Short, stocky. Numerous high yielding branches
Granddaddy Purple x Larry OG
Very relaxed & de-stressing
2000
600 - 700 gr/m▓
50 - 60
September
2nd-3rd week
90-150cm
90cm
150cm
Medium
90%
10%
Mostly Indica
Medium
Yes
Apple Pie baked with Cloves
Your favourite bakery
4
5
5
4
4
Cool, Hot & Temperate
1