RUNTZ AUTO STRAIN
FEEL THE UNIQUE FRESH FRUITY TERPENES FLING YOU INTO A FABULOUSLY FULFILLING FREEDOM OF MIND.
Runtz x BF Super Auto #1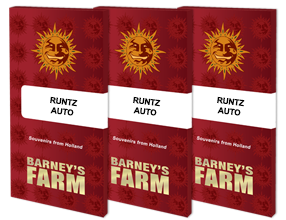 Runtz Auto Cannabis Seeds
Type: Autoflowering strain
Runtz Auto by Barneys Farm
After the runaway success of Runtz there was absolutely no other option but to create an autoflowering version of our previous work. This auto flowering strain manages to deliver the same outstanding package of plant, but in a smaller time frame - just 70 days from seed! Final growing heights of around 120cm can be expected.
Yields still pack a punch - with experience and the correct lighting conditions it is possible to push her as far as 600g/m2. Just like the original, she can bathe away your worries and strife in a sumptuous sea of fruity flavours, with killer buds that are smeared in an intoxicating layer of diverse cannabinoids.
We have even managed to preserve some of the outrageous tastes that the original had in this version, so you'll be able to have the same amount of fun and enjoyment in a much smaller grow window! This balanced yet saucy hybrid will deliver you to another flabbergasting level of relaxation, shattering mental tensions and ensuring you can carry on through your day, protected from any worries or negativity by a halo of positivity.
Is Runtz Auto Indica or Sativa?
The Runtz Auto strain by Barneys Farm is 30% Sativa 70% Indica.
What is the best way to store my Runtz Auto strain seeds?
To properly store Runtz Auto seeds, it is recommended to keep them cool and dark in an airtight container ideally in a refrigerator with proper labeling and dating, avoiding freezing.
What is the best method to germinate Runtz Auto strain seeds?
There are numerous techniques for germinating Runtz Auto cannabis seeds if it is allowed in your location. The paper towel method is a common method in which the Runtz Auto seeds are placed on a damp paper towel and covered with another damp paper towel to keep them moist. After that, keep the paper towel in a warm, dark spot and check on it every day to ensure that it remains moist. When the Runtz Auto seeds have germinated, gently place them in soil or similar growth media.
Runtz Auto strain cannabis seeds are sold strictly for souvenirs, storage, and genetic preservation.
Runtz Auto Strain Specs
Feminised
Autoflowering
Runtz x BF Super Auto #1
Calming, Relaxion, Euphoric
700g/m2
600 gr/m²
63 - 70
80-100cm
120-140cm
Short
70%
30%
Mostly Indica
Sweet, Tropical, Fruity
Sweet, Fruits, Candy
SPECIFICATION
feminised
autoflowering
indoor/outdoor
Runtz x BF Super Auto #1
Calming, Relaxion, Euphoric
700g/m2
600 gr/m²
63 - 70
80-100cm
120-140cm
Short
70%
30%
Mostly Indica
Medium
Yes
Sweet, Tropical, Fruity
Sweet, Fruits, Candy
2