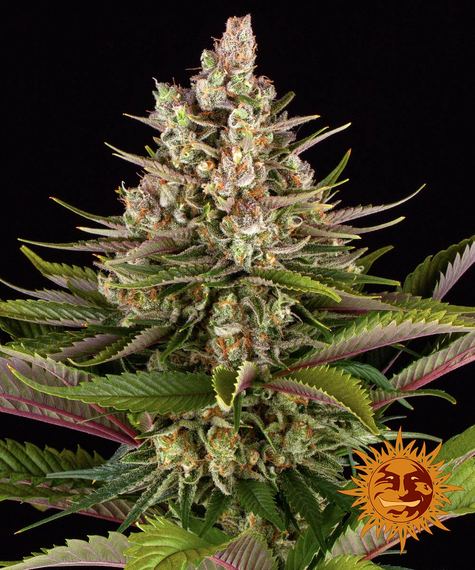 SOUR STRAWBERRY STRAIN
EXPERIENCE A UNIQUE BLEND OF FRUITY SWEETNESS AND ENERGIZING DELIGHTS WITH THE STRAWBERRY DIESEL CANNABIS STRAIN.
Strawberry Kush Strain x Sour Diesel Strain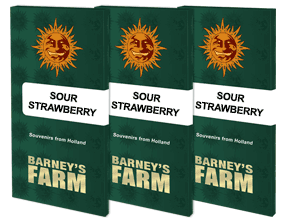 Sour Strawberry Cannabis Seeds
Type: Feminised strain
Sour Strawberry Strain by Barneys Farm
Prepare to be swept away by the tantalizing aroma and seductive allure of our Sour Strawberry strain Aka ​​​​​Strawberry Diesel. Sour Strawberry is the result of a powerful genetic cross between the legendary Strawberry Kush and the renowned Sour Diesel, resulting in a well-balanced hybrid strain that is slightly sativa-dominant and a pleasure to grow whatever your experience level.
The flowering time of Sour Strawberry is just 65-70 days indoors, meaning that you won't have to wait long before you can indulge in its beauty. With an indoor yield of 500-600g/m2, you can expect to be rewarded with an abundance of potent, sticky buds that are sure to impress. But why limit yourself to growing indoors? Sour Strawberry strain thrives outdoors, with a yield of 1.5 to 2.5kg per plant and a height of 1.5-2m. Just imagine the satisfaction of watching these plants grow and mature under the warm sun, ready for harvest in early October. And let's not forget about the THC percentage – with a range of 22-24%, Sour Strawberry Diesel is a strain that packs a punch.
The buds of Sour Strawberry are truly a sight to behold, with bright green leaves and fiery orange hairs that beckon you to take a closer look. And once you do, you'll be treated to a bouquet of aromas that range from sour, sweet and fruity to earthy and diesel-like. So why wait? Treat yourself to the unforgettable experience of this Sour Strawberry strain. With its potent genetics, bountiful yields, and mesmerizing beauty, this strain is sure to become a staple in your cannabis collection.
Is Sour Strawberry Indica or Sativa?
The Sour Strawberry strain by Barneys Farm is 60% Sativa 40% Indica.
What is the best way to store my Sour Strawberry strain seeds?
To properly store Sour Strawberry seeds, it is recommended to keep them cool and dark in an airtight container ideally in a refrigerator with proper labeling and dating, avoiding freezing.
What is the best method to germinate Sour Strawberry strain seeds?
There are numerous techniques for germinating Sour Strawberry cannabis seeds if it is allowed in your location. The paper towel method is a common method in which the Sour Strawberry seeds are placed on a damp paper towel and covered with another damp paper towel to keep them moist. After that, keep the paper towel in a warm, dark spot and check on it every day to ensure that it remains moist. When the Sour Strawberry seeds have germinated, gently place them in soil or similar growth media.
Sour Strawberry strain cannabis seeds are sold strictly for souvenirs, storage, and genetic preservation.
Sour Strawberry Strain Specs
Feminised
Normal
Strawberry Kush Strain x Sour Diesel Strain
Creative, Energizing, Euphoria, Happy, Relaxing
1.5- 2kg per plant
550-600 gr/m²
65 - 70
October
1st-2nd week
100-120cm
100-120cm
150 – 200cm
Medium
40%
60%
Mostly Sativa
Berries, Diesel, Strawberry, Sweet Citrus
Diesel, Earthy, Pungent, Strawberry, Sweet
SPECIFICATION
feminised
normal
indoor/outdoor
Strawberry Kush Strain x Sour Diesel Strain
Creative, Energizing, Euphoria, Happy, Relaxing
1.5- 2kg per plant
550-600 gr/m²
65 - 70
October
1st-2nd week
100-120cm
100-120cm
150 – 200cm
Medium
40%
60%
Mostly Sativa
No
Berries, Diesel, Strawberry, Sweet Citrus
Diesel, Earthy, Pungent, Strawberry, Sweet