STRAWBERRY CHEESECAKE AUTO STRAIN
AN AFGHAN OG MEETS STRAWBERRY PIE IN THIS MOUTHWATERING DELIGHT
Strawberry Pie x Afghan OG x BF Super Auto #1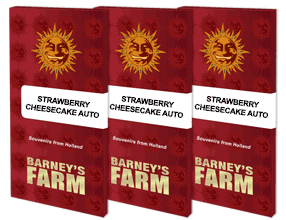 Strawberry Cheesecake Auto Cannabis Seeds
Type: Autoflowering strain
Strawberry Cheesecake Auto by Barney's Farm
Featuring a totally unique twist, Barneys Farm continues its quest in the creation of pioneering genetics with our own Strawberry Cheesecake Auto. After extensive selective breeding with our various strawberry terpene-rich strains, we chose a tantalizingly subtle Strawberry Pie pheno. The lab then crossed this with a rare cutting of an Afghan OG The infusion of these Indica dominant Kush traits ensures rapid growth, incredible production capabilities and a strong forgiving structure.
Crossing this strain with our BF Super Auto #1 means Strawberry Cheesecake Auto can also thrive in cooler climates, larger in life than most autos, but perfectly compact and completing its life cycle in a blink of an eye. During its growing stage our Strawberry Cheesecake Auto is typically unassuming before the rapid growth of its blunt shaped flowering branches reach out, its dark green leaves eventually transform producing beautiful deep purple tinges.
Predictably this is a very sticky resinous plant with deep orange flowers covered in a thick layer of trichomes indicative of delicate icing on a cake. The aromas are quite intriguing, sweet goat's' cheese with hints of aged earthy skunk topped with a subtle release of strawberry hash and fresh wild berries.
Is Strawberry Cheesecake Auto Indica or Sativa?
The Strawberry Cheesecake Auto strain by Barneys Farm is 25% Sativa 75% Indica.
What is the best way to store my Strawberry Cheesecake Auto strain seeds?
To properly store Strawberry Cheesecake Auto seeds, it is recommended to keep them cool and dark in an airtight container ideally in a refrigerator with proper labeling and dating, avoiding freezing.
What is the best method to germinate Strawberry Cheesecake Auto strain seeds?
There are numerous techniques for germinating Strawberry Cheesecake Auto cannabis seeds if it is allowed in your location. The paper towel method is a common method in which the Strawberry Cheesecake Auto seeds are placed on a damp paper towel and covered with another damp paper towel to keep them moist. After that, keep the paper towel in a warm, dark spot and check on it every day to ensure that it remains moist. When the Strawberry Cheesecake Auto seeds have germinated, gently place them in soil or similar growth media.
Strawberry Cheesecake Auto strain cannabis seeds are sold strictly for souvenirs, storage, and genetic preservation.
Strawberry Cheesecake Auto Strain Specs
Feminised
Autoflowering
Strawberry Pie x Afghan OG x BF Super Auto #1
650 grams
650 grams gr/m²
75 - 80
110-120cm
100cm
140cm
Medium
75%
25%
Mostly Indica
Earthy, Strawberry, Cheesecake
Strawberry Hash, Cheesecake
4
Cool, Hot & Temperate
SPECIFICATION
feminised
autoflowering
indoor/outdoor
Strawberry Pie x Afghan OG x BF Super Auto #1
650 grams
650 grams gr/m²
75 - 80
110-120cm
100cm
140cm
Medium
75%
25%
Mostly Indica
No
Earthy, Strawberry, Cheesecake
Strawberry Hash, Cheesecake
3
2
3
3
4
Cool, Hot & Temperate
2