STRAWBERRY LEMONADE STRAIN
LET THIS SEDUCTIVE STRAWBERRY DELIGHT BUBBLE THROUGH YOUR BRAIN AND BODY
Strawberry x Lemon OG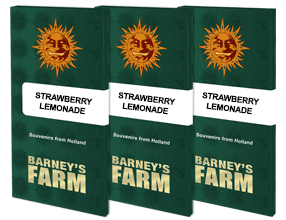 Strawberry Lemonade Cannabis Seeds
Type: Feminised strain
Strawberry Lemonade strain by Barneys Farm
We are delighted to introduce this brand new Strawberry & Lemon flavoured creation from Barneys Farm. Crossing the highly potent & mostly sativa Strawberry with our phenomenal Lemon OG produced a strain that makes nostrils fizz, taste buds explode and brains bubble. An array of fruity tasting terpenes transports you into a strawberry coloured world of relaxation, relieving pain and leaving you feeling invigorated and energetic.
Strawberry Lemonade strain is hugely popular for daytime activities, with lab tests reporting a massive THC content of above 20%! A little bit of Lemonade goes a long way! Whatever you do, don't miss out on this sparkling new addition Strawberry Lemonade strain to the Barneys Farm catalogue. Outdoors yields of up to 2.5kg are feasible in excellent conditions, and indoors one can expect a massive 700g/m2 with a flowering time of 60-70 days.
Is Strawberry Lemonade Indica or Sativa?
The Strawberry Lemonade strain by Barneys Farm is 60% Sativa 40% Indica.
What is the best way to store my Strawberry Lemonade strain seeds?
To properly store Strawberry Lemonade seeds, it is recommended to keep them cool and dark in an airtight container ideally in a refrigerator with proper labeling and dating, avoiding freezing.
What is the best method to germinate Strawberry Lemonade strain seeds?
There are numerous techniques for germinating Strawberry Lemonade cannabis seeds if it is allowed in your location. The paper towel method is a common method in which the Strawberry Lemonade seeds are placed on a damp paper towel and covered with another damp paper towel to keep them moist. After that, keep the paper towel in a warm, dark spot and check on it every day to ensure that it remains moist. When the Strawberry Lemonade seeds have germinated, gently place them in soil or similar growth media.
Strawberry Lemonade strain cannabis seeds are sold strictly for souvenirs, storage, and genetic preservation.
Strawberry Lemonade Strain Specs
Feminised
Normal
.
Strawberry x Lemon OG
Creative, Calming, Uplifted, Happy, Focused, Energetic
2500
700 gr/m▓
60 - 70
October
1st-2nd week
120-150cm
120-150cm
250cm
Tall
40%
60%
Mostly Sativa
Strawberry, Lemonade, Lemon, Skunky, Sweet
Sweet, Lemon, Earthy, Strawberry, Fruity Hash
4
SPECIFICATION
feminised
normal
indoor/outdoor
.
Strawberry x Lemon OG
Creative, Calming, Uplifted, Happy, Focused, Energetic
2500
700 gr/m▓
60 - 70
October
1st-2nd week
120-150cm
120-150cm
250cm
Tall
40%
60%
Mostly Sativa
Medium
Yes
Strawberry, Lemonade, Lemon, Skunky, Sweet
Sweet, Lemon, Earthy, Strawberry, Fruity Hash
5
4
4
4
4
2