TRIPLE CHEESE STRAIN
SEIZE THE CHEESE! MIND BLOWING TRIPLE CHEESE EXTRAVAGANZA FOR THE CHEESE LOVER
Cup Winner
Old Cheese x Blue Cheese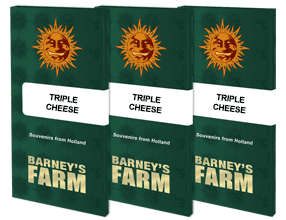 Triple Cheese Cannabis Seeds
Type: Feminised strain
Triple Cheese Strain by Barneys Farm
Triple Cheese Strain is the crossing of our BLUE CHEESE with the powerful Original Cheese (Skunk#1 phenotype), created over many generations of selections and back crossing to give this amazing strain. Triple Cheese Strain is everything we wanted to create and more.
But wait, it gets better; this plant is easy to grow and produces dense buds with a remarkable blueberry and Old Cheese taste. The indisputable dank cheese flavour dominates this strain, and packs a punch.
Is Triple Cheese Indica or Sativa?
The Triple Cheese strain by Barneys Farm is 20% Sativa 80% Indica.
What is the best way to store my Triple Cheese strain seeds?
To properly store Triple Cheese seeds, it is recommended to keep them cool and dark in an airtight container ideally in a refrigerator with proper labeling and dating, avoiding freezing.
What is the best method to germinate Triple Cheese strain seeds?
There are numerous techniques for germinating Triple Cheese cannabis seeds if it is allowed in your location. The paper towel method is a common method in which the Triple Cheese seeds are placed on a damp paper towel and covered with another damp paper towel to keep them moist. After that, keep the paper towel in a warm, dark spot and check on it every day to ensure that it remains moist. When the Triple Cheese seeds have germinated, gently place them in soil or similar growth media.
Triple Cheese strain cannabis seeds are sold strictly for souvenirs, storage, and genetic preservation.
Triple Cheese Strain Specs
Feminised
Normal
.
Old Cheese x Blue Cheese
Tingly Arousal, Body High, Long Lasting, Happy
600 gr/m▓
50 - 55
September
2nd-3rd week
90/100cm
100cm
Medium
80%
20%
Mostly Indica
Cheesy, Herbal, Sweet, Sour, Dank
Sweet, Cream, Cheese, Pungent
SPECIFICATION
feminised
normal
indoor/outdoor
.
Old Cheese x Blue Cheese
Tingly Arousal, Body High, Long Lasting, Happy
600 gr/m▓
50 - 55
September
2nd-3rd week
90/100cm
100cm
Medium
80%
20%
Mostly Indica
No
Cheesy, Herbal, Sweet, Sour, Dank
Sweet, Cream, Cheese, Pungent