TROPICANNA BANANA STRAIN
LET THIS POWERFUL BANANA TAKE YOU ON A TOTALLY TROPICAL TRIP INTO EUPHORIA
Tropicanna x Banana Kush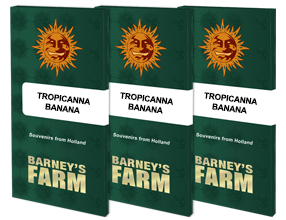 Tropicanna Banana Cannabis Seeds
Type: Feminised strain
Tropicanna Banana Strain by Barneys Farm
Tropicanna Banana is another totally tantalising addition to our Cali collection. A mesmerising tropical cocktail of fresh and fruity flavours, uncompromising power and extraordinary yield potential. This remarkable hybrid is sweet, sticky, pumped up, highly potent and will leave growers gasping in awe at these high performing genetics.
Barney's Farm have tamed this Sativa Dominant hybrid (60% Sativa, 40% Indica) and garnished it with huge dollops of glistening, sweet tropical fruit scented trichomes. A perfectly crafted marriage of Tropicanna (Girl Scout Cookies x Tangie) and a twist of Banana Kush infuses a calming Indica influence.
Let her effervescent personality guide you into a world of euphoric fizz and mystery. Tropicanna Banana is a highly vigorous plant, capable of delivering monster production when in the correct hands. When growing Tropicanna Banana Indoors expect heights of up to 1.1m with yields of 700g/m2 (flowering in 65-70 days) outdoors yields of up to 2kg per plant are very achievable. THC levels of 22-25% ensure extraordinary therapeutic value and uplifting invigorating effects that will stay with you throughout the day.
Is Tropicanna Banana Indica or Sativa?
The Tropicanna Banana strain by Barneys Farm is 60% Sativa 40% Indica.
What is the best way to store my Tropicanna Banana strain seeds?
To properly store Tropicanna Banana seeds, it is recommended to keep them cool and dark in an airtight container ideally in a refrigerator with proper labeling and dating, avoiding freezing.
What is the best method to germinate Tropicanna Banana strain seeds?
There are numerous techniques for germinating Tropicanna Banana cannabis seeds if it is allowed in your location. The paper towel method is a common method in which the Tropicanna Banana seeds are placed on a damp paper towel and covered with another damp paper towel to keep them moist. After that, keep the paper towel in a warm, dark spot and check on it every day to ensure that it remains moist. When the Tropicanna Banana seeds have germinated, gently place them in soil or similar growth media.
Tropicanna Banana strain cannabis seeds are sold strictly for souvenirs, storage, and genetic preservation.
Tropicanna Banana Strain Specs
Feminised
Normal
Tropicanna x Banana Kush
Happy, Uplifted, Relaxed
2000
700 gr/m▓
65 - 70
October
2nd-3rd week
110cm
Medium
40%
60%
Mostly Sativa
Fruity, Banana, Tropical
Earthy, Pungent
4
Hot & Temperate
SPECIFICATION
feminised
normal
indoor/outdoor
Tropicanna x Banana Kush
Happy, Uplifted, Relaxed
2000
700 gr/m▓
65 - 70
October
2nd-3rd week
110cm
Medium
40%
60%
Mostly Sativa
Medium
Yes
Fruity, Banana, Tropical
Earthy, Pungent
4
5
4
4
Hot & Temperate
2