WATERMELON ZKITTLEZ AUTO STRAIN
DON'T MISS OUT ON THIS AUTOFLOWERING BEST SELLER, A FANTASTIC FRUITY FUSION OF TROPICAL DELIGHT.
Watermelon Zkittlez x BF Super Auto #1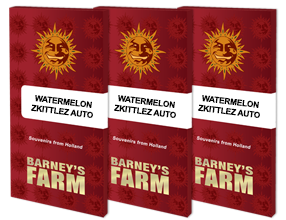 Watermelon Zkittlez Auto Cannabis Seeds
Type: Autoflowering strain
Watermelon Zkittlez Auto by Barneys Farm
Watch out, because Watermelon Zkittlez Auto has the power to bounce you sideways like a ninepin. Discover her distinct fruity flavours as they froth and fizz from this phenomenal trichome loaded THC factory. An easy to grow strain yet awe inspiring autoflower, this plant is capable of producing prodigious yields in excess of 550g/m² in experienced hands. That said, she is an unfussy plant that pretty much grows herself, so can be an ideal option for beginners and experts alike.
This sensational specimen will spring into flower when planted in just 70 days, a real speed weed demon. An easy girl to trim makes harvesting a synch. Later on her effervescent effects will gently pamper you into an extremely peaceful state of mind.
Watermelon Zkittlez Auto grows to a height of up to just 140cm making it ideal for terrace and balcony growing. High levels of THC (26%) ensure a profound and long lasting euphoric effect. Make sure you try the totally tropical flavours of Watermelon Zkittlez Auto at least once in your life. You will not be sorry you did.
Is Watermelon Zkittlez Auto Indica or Sativa?
The Watermelon Zkittlez Auto strain by Barneys Farm is 40% Sativa 60% Indica.
What is the best way to store my Watermelon Zkittlez Auto strain seeds?
To properly store Watermelon Zkittlez Auto seeds, it is recommended to keep them cool and dark in an airtight container ideally in a refrigerator with proper labeling and dating, avoiding freezing.
What is the best method to germinate Watermelon Zkittlez Auto strain seeds?
There are numerous techniques for germinating Watermelon Zkittlez Auto cannabis seeds if it is allowed in your location. The paper towel method is a common method in which the Watermelon Zkittlez Auto seeds are placed on a damp paper towel and covered with another damp paper towel to keep them moist. After that, keep the paper towel in a warm, dark spot and check on it every day to ensure that it remains moist. When the Watermelon Zkittlez Auto seeds have germinated, gently place them in soil or similar growth media.
Watermelon Zkittlez Auto strain cannabis seeds are sold strictly for souvenirs, storage, and genetic preservation.
Watermelon Zkittlez Auto Strain Specs
Feminised
Autoflowering
Watermelon Zkittlez x BF Super Auto #1
Uplifting Relaxation
600-700
550 gr/m²
70
120-140cm
140cm
Medium
60%
40%
Mostly Indica
Fruity Watermelon, Sweet berries
Tropical, Fruity, Candy
SPECIFICATION
feminised
autoflowering
indoor/outdoor
Watermelon Zkittlez x BF Super Auto #1
Uplifting Relaxation
600-700
550 gr/m²
70
120-140cm
140cm
Medium
60%
40%
Mostly Indica
No
Fruity Watermelon, Sweet berries
Tropical, Fruity, Candy
2