WATERMELON ZKITTLEZ STRAIN
DON'T MISS THIS FANTASTIC MOUTH-WATERING WATERMELON AND SWEET CITRUS USA FRUITY FUSION OF DELIGHT.
Watermelon x Zkittlez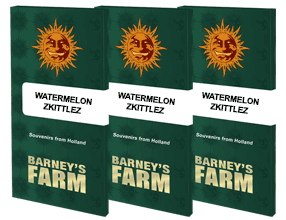 Watermelon Zkittlez Cannabis Seeds
Type: Feminised strain
Watermelon Zkittlez by Barneys Farm
This wonderfully balanced hybrid exhibits heavy sativa growth patterns that help to make her a heavy yielding production factory, with some growers able to achieve more than 1kg per plant when treated with love! Indoors you are going to be looking at around 550g/m2.
An invigorating and highly energising effect comes from sampling this wonderful rose of a cannabis strain. Pretty and fragrant, Watermelon Zkittlez will dazzle you with her upbeat effects which ignite your body and soul. A real tonic for the day's stresses and problems. She makes them disappear in a cloud of smoke, as if by magic.
Before 63 days have passed, this beauty will launch into flower like a rocket, producing towering colas packed with buds which hang in quantity from every branch. At day 63 she will be ready for you. Unforgettable scents emerge throughout the flowering process and the different stages of drying. The cheerful and happy impact from Watermelon fused together with our amazing Zkittlez makes for an absolutely fantastic and fruity cannabis experience that will have you coming back for more and more.
Is Watermelon Zkittlez Indica or Sativa?
The Watermelon Zkittlez strain by Barneys Farm is 45% Sativa 55% Indica.
What is the best way to store my Watermelon Zkittlez strain seeds?
To properly store Watermelon Zkittlez seeds, it is recommended to keep them cool and dark in an airtight container ideally in a refrigerator with proper labeling and dating, avoiding freezing.
What is the best method to germinate Watermelon Zkittlez strain seeds?
There are numerous techniques for germinating Watermelon Zkittlez cannabis seeds if it is allowed in your location. The paper towel method is a common method in which the Watermelon Zkittlez seeds are placed on a damp paper towel and covered with another damp paper towel to keep them moist. After that, keep the paper towel in a warm, dark spot and check on it every day to ensure that it remains moist. When the Watermelon Zkittlez seeds have germinated, gently place them in soil or similar growth media.
Watermelon Zkittlez strain cannabis seeds are sold strictly for souvenirs, storage, and genetic preservation.
Watermelon Zkittlez Strain Specs
Feminised
Normal
Watermelon x Zkittlez
Uplifting, Euphoric Relation, Calming
750–1000g per plant
550 gr/m²
63
September
3rd-4th week
120-140cm
140-200cm
Medium
55%
45%
Mostly Indica
Fruity, Watermelon, Grapes
Tropical Fruits, Sweet, Berries
SPECIFICATION
feminised
normal
indoor/outdoor
Watermelon x Zkittlez
Uplifting, Euphoric Relation, Calming
750–1000g per plant
550 gr/m²
63
September
3rd-4th week
120-140cm
140-200cm
Medium
55%
45%
Mostly Indica
Medium
Yes
Fruity, Watermelon, Grapes
Tropical Fruits, Sweet, Berries
2