WHITE WIDOW XXL STRAIN
UNMISTAKABLE PUNGENT SKUNKY & SAVOURY SWEET AROMAS
Brazilian x South Indian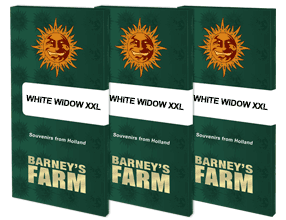 White Widow XXL Cannabis Seeds
Type: Feminised strain
White Widow strain by Barneys Farm
White Widow strain from Barneys Farm is a true Amsterdam classic, for decades the unmistakable pungent skunky and savoury sweet aromas have been symbolic, with the smell of Amsterdam's streets and iconic canals. The evolution continues of this legendary strain, our White Widow strain retains the Brazilian Sativa high, plus an enhanced 75% super resinous South Indian Indica.
Ideal for all conditions and growing techniques White Widow strain is an extremely versatile plant, a mold-resistant strain, resistant to bugs, and copes well even in colder climates so pretty straight forward for all levels of experience. White Widow strain evolves into a classic Indica-shape, a compact vigorous fast grower, strong branches evolve becoming bushy and wide in preparation for flowering. Indoors heights of 100-120cm can be achieved, outdoors 2 metres with relative ease. Flowering time indoors is within 9 weeks, outdoors harvests in early October.
With the onset of flowering large, heavy, and super-sticky solid buds burst from its branches, its flowering columns can appear more Sativa like, one of the many unique traits of this strain. The extraordinary resin production creates a thick blanket of glistening trichomes covering its colas, almost white in appearance frosting the long bright orange pistil and small dark green sugar leaves. This Amsterdam classic comes with an exotic terpene profile packed full of pungent skunky sweet citrus aromas and an earthy, pine wood and spice flavour.
Is White Widow XXL Indica or Sativa?
The White Widow XXL strain by Barneys Farm is 25% Sativa 75% Indica.
What is the best way to store my White Widow XXL strain seeds?
To properly store White Widow XXL seeds, it is recommended to keep them cool and dark in an airtight container ideally in a refrigerator with proper labeling and dating, avoiding freezing.
What is the best method to germinate White Widow XXL strain seeds?
There are numerous techniques for germinating White Widow XXL cannabis seeds if it is allowed in your location. The paper towel method is a common method in which the White Widow XXL seeds are placed on a damp paper towel and covered with another damp paper towel to keep them moist. After that, keep the paper towel in a warm, dark spot and check on it every day to ensure that it remains moist. When the White Widow XXL seeds have germinated, gently place them in soil or similar growth media.
White Widow XXL strain cannabis seeds are sold strictly for souvenirs, storage, and genetic preservation.
White Widow XXL Strain Specs
Feminised
Normal
Brazilian x South Indian
Creative, Uplifting, Energetic, Talkative, Euphoric
2kg per plant
650 gr/m▓
60 - 65
October
1st-2nd week
100-120cm
100-120cm
200cm
Medium
75%
25%
Mostly Indica
Fruity, Spicy, Pine
Sweet, Pungent, Fruity, Spicy, Pine
4
SPECIFICATION
feminised
normal
indoor/outdoor
Brazilian x South Indian
Creative, Uplifting, Energetic, Talkative, Euphoric
2kg per plant
650 gr/m▓
60 - 65
October
1st-2nd week
100-120cm
100-120cm
200cm
Medium
75%
25%
Mostly Indica
No
Fruity, Spicy, Pine
Sweet, Pungent, Fruity, Spicy, Pine
4
4
4
4
4
1